Jon Acuff's new book Stuff Christians Like has got a lot of folks laughing. And for church-goers, that's an accomplishment. Christians have a long history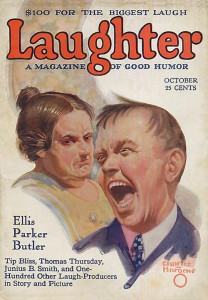 of frowning upon merriment. And laughing at ourselves is, for some, virtually anathema.
But things are changing. Humor is suddenly afoot amongst the saints. Take Colin Hansen's post at Out of Ur entitled Comedy in the Pulpit:
One church I know recently hosted "Church Joke Sunday." …And during the recent Festival of Homiletics in Nashville, Susan Sparks coached pastors in clerical comedy.
"Close to 200 ministers crowded a classroom at First Baptist, with more hanging out in the hallway for her workshop on bringing humor into the pulpit," Bob Smietana wrote for The Tennessean on May 20. "She says that humor can help preachers connect with their parishioners, defuse church conflict and deal with an often-stressful calling. To help get her message across, Sparks gave preachers a Ten Commandments of stand-up comedy."
Preachers and "stand-up comedy" seem about as compatible as brain surgery and an oil change. Besides, preachers should be better at handling the word of truth than nailing the punch line. However, if contemporary Christian culture is trending toward more humor, conviction will inevitably take a back seat to laughter. Hansen concludes:
I don't suppose there is any way to criticize this approach and come across as anything but dour. So be it. I can't help but wonder about the health of American churches when comedy is considered a cure. Are we just bored with the gospel? Do we have nothing to offer the broader world except jokes that few outside the church would consider funny? Is anyone aware that the watching world laughs at us, not with us? (emphasis mine)
There is a big difference between learning to use humor effectively in the pulpit and routinely snarking about American evangelicals. Kitschy, insular, religious culture deserves some jest, and I think Acuff captures this without malice. Nevertheless, I find myself wondering whether we aren't undermining ourselves in the process.
I mean, how will people ever believe the Message if the messengers are such complete dolts? Or does the admission that we are dolts lend credence to our Message?

Whatever the case, bashing the Church seems to be en vogue these days and in many cases, the derision comes from professing Christians. I can't help but feel that the "Let's Laugh at Ourselves" sentiment is part of this trend. Perhaps I'm over-reaching. Yet behind the amusement is a desire by post-evangelicals to caricature, question, and ultimately dismiss the Western Church.
Do we need more humor in the pulpit? Absolutely. Should Christians lighten up? No question. Are elements of evangelical culture deserving of satire? For sure. But at what point does our ridicule trivialize the very Gospel we possess? Go ahead, call me prudish. But if we are so eager to laugh at evangelicals, maybe it's their theology that is the real butt of the joke.