When it comes to Christianity, believing in miracles is par for the course. I mean, if God can form the world out of nothing, then I reckon He can do just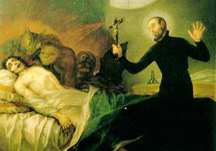 about anything. And in the Bible, He does. In fact, some of the most important biblical events are founded upon miracles: the Creation, the Passover, the Virgin Birth, the Resurrection. Yes, if you're a Christian, believing in miracles is par for the course.
The downside of believing in miracles is the amount of weird ones out there. Take this church in northern California. From Bethel's 'signs and wonders' include angel feathers, gold dust and diamonds:
When "angel feathers" first started to fall at Bethel Church, [Senior Pastor] Bill Johnson thought birds had nested in the air conditioning ducts, he said.
"Then it happened in a restaurant and all different places – on an airplane," he said. "I don't know, I don't teach it, it just happens."
Johnson said he bases his belief that the feathers are a sign from God on a Bible verse that says, "there is healing in his wings," and he doesn't try to explain it.
Among the miracles supposedly occurring at Bethel are the "random" appearance of diamonds, heavenly glitter on the hands of the anointed, and physical manifestations of the glory of God in the sanctuary. In response to this outbreak of "signs and wonders," Pastor Johnson has started the School of Supernatural Ministry wherein he hopes to equip others to reproduce such miracles. He even shared the story about a former student who started a DRT (Dead Raising Team) that "got approval from Mason County to be listed along with other county services and had been given badges so they can go behind police lines if there's an accident or fatality."
Angel feathers. Gold dust. DRT's. Weird? Yup. From God? I dunno.
When it comes to weird miracles, Christians usually fall into one of two camps.
On one side is Thomas Jefferson. Jefferson had a hard time intellectually digesting the miracles in the gospels, so he removed them. What was left has been called the Jefferson Bible. It's a Bible without miracles.
There are many modern variations of this. While Evangelicals profess to believe in the miracles of Scripture and a supernatural world, most of them live remarkably materialistic lives. In fact, in a piece entitled Why "Supernatural Fiction" is Under-represented in Christian Bookstores, I suggested that one reason Speculative Fiction is under-represented in Christian bookstores is because Christians have embraced a materialistic worldview. In a more rigid quadrant are Dispensationalists who openly state that miracles are a thing of the past, and no longer needed. Then there are the "cult-watchers" who've made a mission sniffing out frauds, extremists, and biblical aberrations. To these all folks, the Bethel miracles are probably hogwash.
On the other side, are the more Charismatic and Pentecostal wings of the church. These are the sectors where prophesies, visions and miracles are commonplace, where every other word is a "word from God" and miracles can be purchased with a "tithe offering." To this crowd, the Bethel miracles are probably thrilling.
So on one side is skepticism and disbelief, on the other is uncritical acceptance.
My suggestion is that we concede neither extreme.
When it comes to weird miracles, the question is never Can God? but Did God? Can God raise the dead and sprinkle jewels? Why not? He did weirder things than that in the Bible. The real question is Did God? Did God drop feathers and scatter gold dust? See Mike shrug. Of course, some will call me cynical, faithless and unbelieving. And I admit, I could be. What I'm trying to do is allow for the possibility of miracles — even weird ones — without having to box God in, arbitrate or be completely gullible. Call it critical faith.
Do not put out the Spirit's fire; do not treat prophecies with contempt. Test everything. Hold on to the good. (I Thessalonians 5:19-21 NIV)
We are to "test everything" — that means we shouldn't blindly assume that every supposed miracle is an act of God. But in all our testing, we must not "put out the Spirit's fire." KJV translates that, "quench not the Holy Spirit." Test, but don't quench. Be critical, but not unbelieving.
As long as miracles are possible, plenty of weird, wacky, unexplained ones will happen. And this is what people don't like. They want to box God in, slip a spiritual condom on so they don't contract Pentecostalism. It's easier to just believe God doesn't do miracles, than to sift through all the stupid claims people make. It's easier to just disassociate myself from those wacky Pentecostals than to call them… brothers. But the fact is, God can do whatever He wants, and He doesn't have to abide by my rules or explain Himself to me.
The wrong thing to do is to embrace ALL supposed miracles because God might have performed SOME of them. Equally wrong is to reject ALL miracles because SOME are weird.
* * *
What is your first reaction when confronted with a weird miracle? Do you find it easier to tolerate supposed miracles or simply dismiss them?