This just in: The man who directed The Passion of the Christ really needs Jesus.
It took me a while to actually pay attention to the latest Mel Gibson tirade / scandal / media feeding frenzy. No, it's not because I'm a Gibson apologist.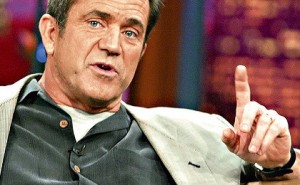 His abusive, racist rant speaks for itself (especially the uncensored version!). It's the press's apparent glee in exposing celebrities — especially the conservative religious kind — that is wearying. Is it just me, or does the media seem to love it when a moralist falls?
So, as expected, charges of hypocrisy are now flying. How can this avowed Catholic, (once) family man, and director of the highest grossing religious film of all time be such an ass? Alas, there's only one logical answer: He's a hypocrite!
But how does that charge validate anything… other than our own hypocrisy?
The response of many toward Mel Gibson's volcanic tantrum illustrates a logical fallacy in how we approach moral and ethical indiscretion. Most people mistakenly assume that hypocrisy automatically invalidates one's belief's. Nietzsche, ever hostile to Christianity, said "If they want me to believe in their Savior. . . His followers will have to look more like men who have been saved!" — as if the facts about Christ's life, death and resurrection are dependent upon my conduct. I'm not suggesting Christian conduct does not matter. After all, "they will know we are Christians by our love." But the fact is, Christianity has survived centuries of its own unloving idiots. Mel Gibson is just one of a long line of professing Christians who are deeply flawed.
Thankfully, the Christian religion does not require my perfection for its perpetuation. In fact, you can't judge the validity of any religion, philosophy, or value strictly by the conduct of its adherents. There are bad Buddhists, bad Muslims, bad humanists, and bad environmentalists. However, their "badness" does nothing to invalidate the ideal of their positions. Hitler was, after all, a vegetarian. Yet his inhumanity is no reason to renounce cabbage and artichokes. Vegetarianism, as an ideal, is no worse off because one of its own suddenly goes carnivore. Likewise, Gibson's racist, narcissistic, chauvinistic rant does little to invalidate the Person and Work of Jesus Christ.
In fact, the actor's emotional meltdown may reinforce the exact need for the Person and Work of Jesus Christ.
When the Democrats re-took the Senate back in '07, they immediately pledged a push for improved ethics. Sounds great, right? Not long after the promise, Louisiana congressman William Jefferson was charged with multiple counts of bribery (he was later sentenced to 13 years in prison). Question: Does Jefferson's lack of ethics invalidate his belief, and ours, in the need for higher ethics. Absolutely not. If something is true or virtuous it should be defended… even if the one defending it is a liar.
And everyone is a liar.
Chesterton suggested that human depravity was the only "provable" biblical doctrine. We can't conclusively prove there is a God or that Christ rose from the dead. We can, however, prove that no one perfectly embodies the values they profess. In fact, the higher standards one possesses, the more of a hypocrite they will inevitably be. We are all hypocrites. Take it to the bank.
In some ways then, hypocrisy reinforces, rather than undermines, one's beliefs. The evolutionist can hardly be slighted for acting like an ape, after all, he IS one (according to him). It's those who believe we're more than animals who get judged by a higher law. Mel Gibson is being judged by his own standards. William Jefferson is being judged by his own standards. Their hypocrisy is evidence of something ideal. If what they say is true, then they should live up to it. But the fact that they don't says more about them, than their convictions.
According to special edition commentaries of The Passion of the Christ, Mel Gibson's hands were shown nailing Christ to the cross during the Crucifixion scene. The director said "It was me that put him on the cross. It was my sins" that put him there.
Nothing worth believing can ever be fully lived up to. And in the case of Christianity, not living up to our beliefs is, in fact, why He came.