As a non-romance reader, I've pledged to read one CBA romance novel. Counting private emails, my last post garnered 20+ suggestions. I narrowed them down to three authors: Deanne Gist, Francine Rivers, and Siri Mitchell.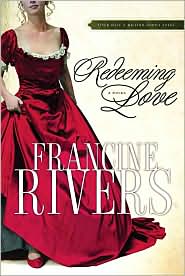 I downloaded a sample chapter from each on my Kindle and read them.
Although I probably liked Siri Mitchell's craft the best, I've decided to read Francine Rivers' Redeeming Love. Why? Two main reasons:
It is commonly viewed as THE standard for Christian romance. Joy said this in her comments on that post, "There's a reason Francine River's name has come up on this thread over and over again. She is a juggernaut in inspirational romance and Redeeming Love is the gold standard." I have heard that from more than one person over the last half decade, so I figured if I'm going to read one Christian romance, I might as well read the book most often referenced.
Secondly, Christian writers and readers often use Redeeming Love as an example that Christian fiction can be edgy (and I am very invested in that subject). Perhaps this is not the best motivation to approach a romance novel, but I can't deny that this is in the equation.
Anyway, I'll let you know if I survive my bout with Christian romance. (If I just stop blogging, assume that I croaked.) Seriously, I plan on writing a review and discussing things. Once again, thanks for all your suggestions and have a great weekend!