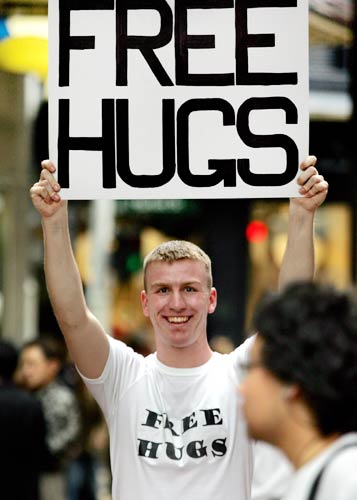 So when we saw a guy at the local mall holding a Free Hugs sign, part of me cringed. The other part of me wanted to run bawling into this stranger's arms.
Have you seen these people? They're part of the Free Hugs Campaign, a group that travels round the world dispensing affection… to complete strangers. I'm not sure what compels these folks to do this, but I know this — they didn't grow up in my house.
Being raised in an alcoholic home, one learns to survive… without hugs.  Resilience becomes far more useful than empathy, a thick skin is preferable to a tender heart. Sure, the absence of attaboys and weepy parental pep talks did not enhance my people skills. But durability is now a specialty of mine.
Hugs? Who needs 'em?
'Course this made my entry into the Christian community rather rocky. You see, I quickly learned that Christians liked to hug. In fact, there was all kinds of hugs to choose from.
There was the awkward side hug.
There was the disarming, motherly, pat-on-the-back hug.
There was the reckless, slobbery, open-armed, full-on bear hug.
There was the stiff, tense,  let's-make-this-quick hug
There was the slow, deliberate, uncomfortably long, I-really-mean-this hug
But there was no porcupine hug. Porcupines don't do hugs.
Needless to say, Christian fellowship can be quite taxing on us non-huggers. Handshakes are fine. But hugs? I need my space, brother. Besides, I grew up believing there were only two types of people in the world: The weak and the strong. And people who require hugs are not strong. So how had the Church survived all these years filled with cream puffs?
Okay. Maybe it's time to reevaluate. Perhaps the fact that Free Hugs exists and people want them is indicative that the weak DO survive. Barely.
Either way, I steered clear of the guy. I've survived this long with minimal hugging and doubt that some stranger on a sidewalk in a busy marketplace will sufficiently alter my psychological malfunction. I smiled and nodded as I passed. But I just couldn't seem to shake this nagging thought:
God hugs porcupines, and has the wounds to prove it.
Alright, enough with this foolishness! This kind of talk will do us no good. The world is cold and cruel, and one can't survive pining for shows of affection. Then again, does surviving really require quills?