My daughter is caught up in the Harry Potter craze. And I couldn't be happier.
After attending last Thursday's midnight showing, she gushed about the film. I teasingly said she was no better than a Twilight fan, to which she bristled.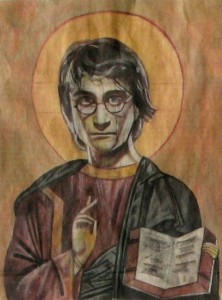 Then, to my utter surprise, she said, "Do you know what Stephen King said about that?" Now she had my attention.
"Harry Potter is all about confronting fears, finding inner strength, and doing what is right in the face of adversity. Twilight is about how important it is to have a boyfriend." – Stephen King
I was momentarily stunned, not because she quoted Stephen King verbatim or that he dissed the sparkly vampire saga, but that my daughter was culling deeper, more substantial elements from the boy wizard. In so doing, she demonstrated one reason why Christian critics appear to be softening.
Apparently, there's more to Harry Potter than just magic.
When the series burst on to the scene in '98, some Christians immediately denounced the book. Potter is a primer for witchcraft, they asserted. Several small independent churches publicly burned the books. In fact, the series ranks first in the American Library Association's Top Banned/Challenged books from 2000-2009.
In Was Harry Potter a Good Christian?, one Georgetown professor, Lauve Steenhuisen, is quoted as blaming the criticism squarely on "conservative Christians."
"In conservative Christianity there's two kingdoms: the kingdom of God and the kingdom of Satan. If (Harry's) not on one side, he's on the other."
Our desire for a black-and-white world and a simplistic discernment model (like Bad guys wear black hats or Good Christians don't smoke) may be the culprit behind much of the early Potter paranoia. Wizardry is evil, was one such dictum. Since the Bible condemns sorcery, necromancy, and the like, many assumed that any employment of said practices — even in fictional characterizations — was wrong. Good guys don't wield wands. The problem was, as the Harry Potter series wore on, magic took the back seat to bigger issues. And even the critics had to take notice.
In How Christians Warmed to Harry Potter Wall Street Journal columnist Sarah Pulliam Bailey observed this slow sea-change:
Christians today are certainly not universally enchanted by the series. Over time, however, more readers have begun to express praise for its honest depiction of fear, loneliness and sacrifice as Harry faces the evil wizard Lord Voldemort. Many Christians have cheered the portrayals of loyalty, courage and love, as the main character repeatedly risks his life.

"These books are not written for people who have a mechanical faith," says John Granger, author of 'Looking for God in Harry Potter.' "For Christians who are consumed with moral elements and symbolism, Potter mania was ironic beyond words."
This irony that "sacrificial love conquers power, including magical power," threw a monkey wrench into the "mechanical faith" of many opponents of the novel. As the series developed, Christians could not avoid the reality that in the story magic was secondary to other powerful, very biblical, "moral elements and symbolism." How could a story that glorified some of Christianity's cardinal virtues be so evil? Even the most "mechanized" Christian recognized the legs of their arguments were undermined.
This warming trend is encouraging. Of course, there may be many reasons why the criticism of Harry Potter has waned. But I can't help but feel that the series has been a bit of a lesson to us culture warriors. We can't approach art through a "mechanized faith." Rather than having a knee-jerk reaction to symbols, words, images, or practices, perhaps we should look deeper, to larger thematic elements that shape a story. After all, sacrificial love is far more important than whether someone wields a wand.
It is this unfolding of Harry Potter's enduring "message" which has silenced many of its critics. And made me a believer.