My novella, Winterland, is officially complete. Yay! I'm very, very pleased with it. Had a lot of fun writing it, too. I received some terrific advice from beta readers Jill Domschot and Lewinna Solwing. Thanks, ladies! When I initially pitched the idea to my publisher, I knew the concept was just too far "out there."  I was right.
But it's kind of worked in my favor. For one thing, the story was well-developed, both in my brain and on paper. I'd conceived Winterland when I first started writing (back in 2005), wrote about 20,000 words, and shelved it. I'm really glad I did, because it fermented. The story has also served as a"tweener," not only genre-wise (it's different from the Supernatural Thriller / Horror I'm currently writing), but logistically (it will be published between my first and second novel, which is scheduled for a May 2012 release). Furthermore, it has given me an opportunity to explore first-hand the new terrain of the publishing world.
I initially worked on Winterland as a "break." It was something different and allowed me to stretch my creative legs. But as I neared completion, I began to realize that this baby could pose problems. Novellas, for one, are difficult to place, especially for traditional publishers (this one is 27,000 words, either a thick short story or a skinny novel, depending on your POV). But conceptually, the story is also hard to describe (I'll return to this in a second).
The more I thought about it, the more it seemed like a great opportunity to self-publish Winterland as an e-book. I got a lot of great advice and encouragement from readers (like Jay Dinitto who recently self-pubbed his e-book Bored in the Breakroom on Smashwords — in fact, I will be using Smashwords to format Winterland — and freelancer Misti Wolanski, aka Carradee).  In fact, it was Misti's post 5 Reasons Every Indie Author Should Attempt Cover Design that really got me going. Which brings me to where I'm at.
As you may know, I love cover art. Conventional wisdom suggests that cover art can be a huge factor in drawing readers to your story. Initially, I figured I'd hire someone to develop a custom design for the book. Three reasons I didn't.
The cost, on average between $50 to $300, depending on the artist.
I am a pain in the ass to work with creatively.
The tools available for the author to do it themselves.
But what image best captured the vibe of Winterland? I floated that question on FB and Twitter the other day, which led to this description of the story: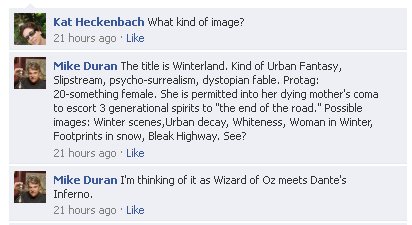 Okay. Do you see my problem? Do I emphasize the Wizard of Oz part or the Dante's Inferno part? Do I choose a cover that screams Psycho-Surrealism or Dystopian Fable? The image below, a scene from The Road, sums up some of the story's feeling. Bleak. Charred. Ravaged.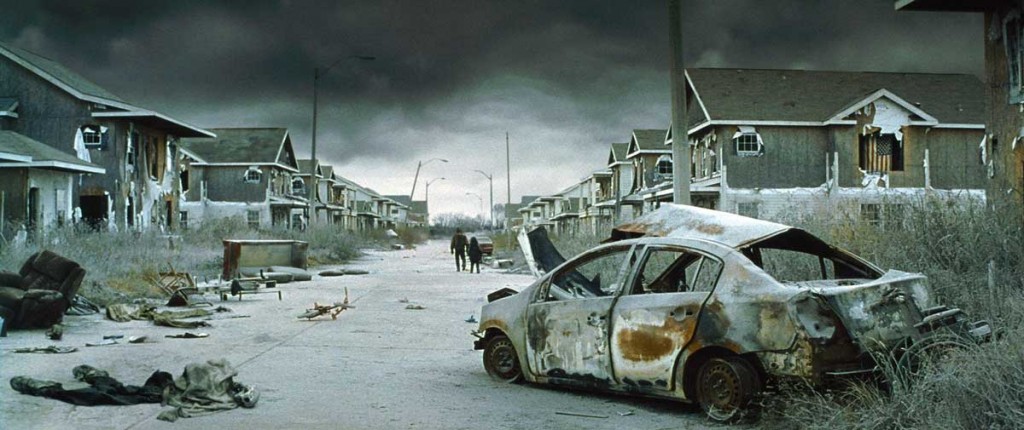 But it's not the primary mood of the story. There is humor. There is satire. There is redemption. There is a Pilgrim's Progress sort of parody.
And there are monsters.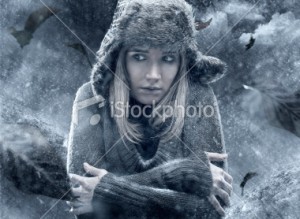 But most of all, there is a 20-something recovering meth-addict who is trying to forgive her dying mother and exorcise a boatload of regret. Which is why I just loved this picture (not purchased) from iStock Photo (see original HERE).
As you can probably see, there's pros and cons to this pic. PROS: Young woman, slightly fearful, creepy atmosphere, winter. CONS: It's too YA-ish. That was the initial response of one of my favorite writer friends. And I think she's right.
Urban Fantasy author and critique partner Merrie Destefano is not just a fantastic writer, she has a great eye for design. In the process of deciding what to do with Winterland, Merrie and I have talked. Merrie's got an e-book novella of her own soon to be released. Before her publisher picked up the book, Merrie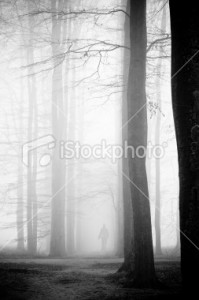 had developed her own cover. She showed it to our critique group one weekend and, trust me, it rocked.
So Merrie volunteered to assist me in the cover design / search process for my novella. (Whatta pal!) Along the way, she said something that really resonated with me. Merrie finds cover design therapeutic. As opposed to writing and editing which can be a slog. My e-Book Cover Quest may sound like a grind, but it hasn't been. In fact, it's kind of energized me to this writing gig.
Wondering how many of you authors have felt a similar exhilaration.
Anyway, at the moment, I am leaning towards an image similar to the one above. (Once again, an un-purchased iStock pic.) Yep, it's pretty plain. But it's also moody, atmospheric, with some brightness down the road. (And as bleak as my stories tend to be, I can't seem to escape the Light at the end of the tunnel.) The important part of a cover

like this, I think, would be the choice of font. Just think what a blood red Gothic W could do for this cover. Or how about an Alice in Wonderland ambiance (like this font right here) to counter a too-bleak landscape? So many possibilities!
All that to say, I've been having a load of fun. Thanks to all who've pitched in. Look for Winterland to be available sometime next month.