Not only is the grass NOT greener on the other side of the publishing fence, there IS no grass. It's just a long arid plain with occasional watering holes.
This week, for me, is a few of those watering holes. Sorta.
First off, The Telling is now available! This is my second novel and you can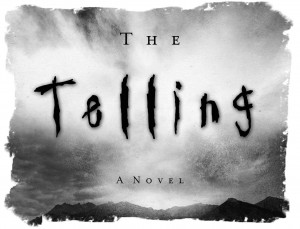 find a synopsis HERE. Technically it releases tomorrow, Tuesday the 15th. But it appears books are now in stock. I'm unsure when the novel will be released in ebook, that's the publisher's decision. (Later this year, I'm planning to release an anthology of short stories in ebook, and possibly a non-fiction essay on a subject near and dear to my heart. But that's a bit down the road.) For now, I'm just trying to slow down enough to celebrate this success.
Then, Friday thru Sunday, I'll be attending and teaching at the OCCWF Conference in Newport Beach. This is my first teaching gig at a writers conference, so I'm pretty stoked. Along with leading a workshop entitled "The Christian Speculative Fiction Writer" (which writer friend Merrie Destefano will join me on), I'll be on a panel, lead a critique group, and be available for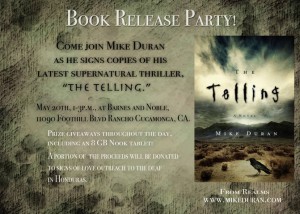 consultations. My agent, Rachelle Gardner will also be attending, so I'm looking forward to meeting her in person for the first time. But by the looks of her schedule (she's booked solid with appointments!), it'll probably be little more than a hug and a high five.
Finally, immediately after the last Keynote Address on Sunday morning, I'll be leaving NB and heading back to our local Barnes and Noble who'll be hosting my Book Release Party from 1-3 PM (directions HERE). For every book I sell, I'll be donating $1 to Signs of Love, a ministry to the deaf in rural Honduras that our church partners with. We'll also have a few giveaways, including a new NOOK Simple Touch with GlowLight. Last year, we sold out of books. So this year, the Community Relations rep vowed to not let that happen again. High expectations. I hope it's not a set-up for disappointment.
Anyway.
Busy week, wouldn't you agree? (Oh, and did I mention that in two weekends, Alayna, the youngest of our four kids, is getting married?) It's one of those seasons where everything seems to have converged. Lots of anticipation and nervous energy. And a looking forward to more leisurely days.
All that to say, this week will be a little bit different at deCOMPOSE. I'll step back from my normal blogging schedule and subject matter, and devote this week to talking up The Telling. Maybe a giveaway. If you plan on purchasing the book, I'd really covet a review on Amazon.com, Goodreads, or B&N.  And if you're in the area this weekend, I'd love to meet you and chat at the conference or book signing.