According to the Spring 2012 ACFW (American Christian Fiction Writers) Journal, only 13% of its members are men. (You can find a PDF of that edition HERE.) I tweeted that stat yesterday and Richard Mabry, ACFW Vice President replied, "ACFW male membership has climbed each year I've been involved." Frankly, I'm not sure if I should be excited by that or not. If 13% is a positive sign, I'm afraid to know our dismal representation before that. Or at what rate it's climbing.
I followed up that question with one more to the point of this post and my ongoing concerns about our industry: "Is there an attempt to grow that number? If not, why not? If so, how?" That's kind of where our exchange stalled. ACFW membership is simply reflective of the demographic tilt in the Christian fiction industry. As a result, there is no plan to grow male membership. That didn't keep E. Stephen Burnett from offering a creative solution to ACFW's Man Problem: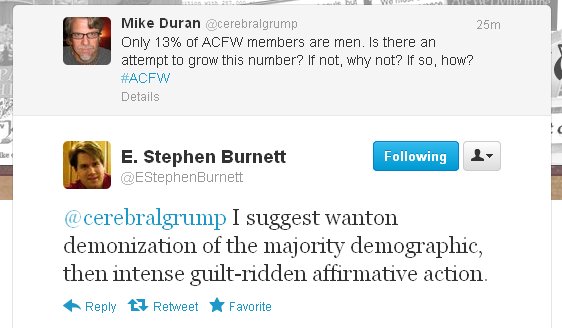 I'm fully aware that raising these questions is interpreted by some as a "wanton demonization of the majority demographic." It's not. But as one of that small minority of men, it doesn't feel like the Christian publishing industry
Sees any problem with an overwhelmingly female readership, and
Is making any effort to reach / represent men.
Clearly, the problem is not at the ACFW level, but at the industry.
I've talked to lot of male Christian authors, many already published in the CBA, about this. Our impressions are remarkably the same. For instance, I recently spoke to a multi-published male Christian author who, like many of us, is looking to move out of the CBA. Why? Christian publishers don't know how to market to men. This author described how difficult it was to get the marketing department to understand and "hit" his target market. Publishers are so geared to the ACFW 87%ers, that everything else must, of necessity, take a back seat.
Because Women's / Historical fiction is the wheelhouse of the CBA, publishing houses are now designed to crank out this product. A new title rolls in and the marketing department just rearranges all the typical pieces: bonnet, covered wagon, parasol, petticoat, doe-eyed lass. Check, check, check! It's a quick cut-and-paste affair. The economy has forced Christian publishers into "safe mode." So when a horror, crime, fantasy, literary, or sci-novel rolls in, it's the equivalent of adding a fifth wheel to an assembly line of carriages.
ACFW is no doubt reflective of the industry. Men would likely feel more comfortable about joining the ACFW if their demographic and genre interests were represented more in the industry in general. But would a more intentional, more effective, marketing strategy to men change anything? Until we see it, it's hard to say.