Earlier this week, I posted the following to Facebook: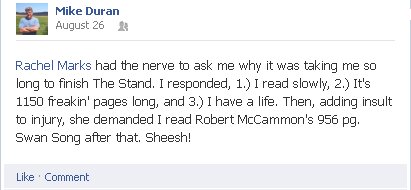 I later realized there was something I forgot to include, something that keeps me from reading more than any other thing: writing.
I would get a lot more reading done if I wrote less.
Which creates a huge problem, especially for someone who is working to get a writing career off the ground.
Shortly after I posted that, I stumbled upon a recent post by Brett McCracken. Brett and I crossed paths years ago when he worked for Relevant Magazine and published a couple of my non-fiction articles. Since then, he's moved to L.A., become managing editor for Biola University's Biola Magazine, and is now awaiting the publication of his second book. I've interviewed Brett a couple times on this blog.
Anyway, a couple weeks back, Brett posted a piece entitled To Everything There Is a Season, in which he explains why he needs to scale back on his blogging, and writing in general.
I've already confessed to Schizo-Blog. And Brett's article, unintentionally,  produced a reboot of the familiar guilt. He offered four reasons why he needed to cut back on his blogging. The fourth was the one that really got me. He writes:
I want to read more than I write. Now that I'm done writing my new book, I'm intensely hungry to read the mountain of books that have been piling up. I also want to find time to read some of the other things being written online on any given day. It's overwhelming to me how much I wish I could read but can't (for lack of time).
Oh, how this hits home.
In my case, writing does not just mean writing fiction, but blog posts, Facebook posts, twitter updates, replying to commenters, emailers, and attempting to engage in the discussions of the writing community cyber friends.
This is hard to do working a 40 hour week outside the home.
Sadly, it's my reading that takes the hit.
My "mountain of books " has since collapsed; it's now measured in terms of its layers of sediment. "Gee, I remembered when I wanted to read this!" The book is then Carbon-dated and returned to the shelf, fossilized in its virgin state.
Listen, blogging has become a huge part of my life. And I like doing it! It's hard to imagine going through a week not wrestling over a post, ginning up some controversy, or watching the witty, intelligent comments unfold. (Have I mentioned lately how much I appreciate all those who regularly comment here?)  I've met SO MANY great people through my blog. But I fear that, at some point, I simply must flip things and read more than I write.
If I don't, I have to wonder how long I can continue to write.
Question: If you're a reader, do you read more than you write? Generally speaking, do you think writers should read more than they write? And if you're an aspiring author, can you really afford to scale back writing and blogging and social networking just to keep up on your reading list?
And, oh, by the way, I'm on page 970-something of "The Stand."