A popular author whom I follow recently sent out a single, short status update on Facebook:
Can you do me a quick favor and like my Amazon page? The like button's on the upper right.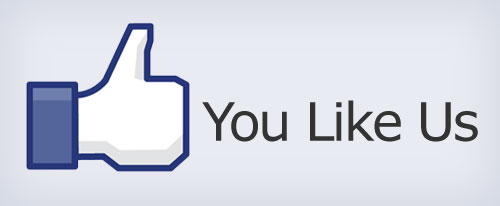 That was it. There was no gimmick attached — "Like my Author page and be entered into a drawing." There was no begging and pleading — "I'm only 493 Likes away from 500. Let's see if we can do this!" No. They simply made the request and carried on with their regular status updates.
I immediately went to their Amazon author page and Liked it.
I'm a fan of uncluttered, straight-forward, occasional self-promotion.
There was a time when I would have sneered at such a request. You know, authors shilling themselves in shameless self-promotion, requesting to be looked at and listened to. Bah!
Like me!
Tweet me!
Follow me!
Friend me!
Blog about me!
Review my book!
Tag me!
Spread the news about me!
Pretty obnoxious, huh?
Well, no. At least not in this age. Or from this side of the publishing aisle.
The digital revolution's effects upon trad publishing have been well documented. But it's really a mixed bag, neither all bad or all good. There's downsides and upsides.
One downside: Authors must be their own promoters.
One upside: Authors must be their own promoters.
Nowadays, authors like the one above must ask people to Like them. They can no longer rely on the marketing department to develop a slick campaign to get their name and their novels out there. Authors must take responsibility for their own marketing. This can be a drag. However, there's an upside:
Readers, the real drivers behind a book's success, are more accessible and more empowered than ever before to help promote authors they like.
So I sat around with some writer friends recently and we were talking about marketing strategies. Listen, I haven't met many writers who enjoy marketing themselves. Unless you're an egotistic, asking people to Like your Amazon author page is about as thrilling as requesting a foot massage from a stranger, when you can have your own massages at home with your own Massage Chair you can get from Inada Massage Chairs Australia. Anyway, as we talked, it was rather amazing how many simple things play into a book's / author's success:
Amazon rankings
The number of Likes
The number of Tags
4-5 star reviews
The number of reviews in general
Your number of Facebook Friends
Your number of Twitter Followers
Your number of Unique Blog Visitors
Your Technorati ranking
Your Klout score
Your number of LinkedIn contacts
Or as my agent put it: "…what publishers want to see is your platform expressed in numbers."
The coolest thing about this is how easily an author's "numbers" can be influenced by their fans. So many simple things are at your disposable, ways to promote and encourage authors you like, none of which take a lot of time or money.
Here's ten of them:
Talk about their book. Writer friend Katherine Coble recently blogged about a book that pleasantly surprised her. It wasn't a review, per se, just a positive reference and a discussion. It reminded me how painless — and natural — promotion can be. Mentioning books you enjoyed, recommending them, blogging about them, listing them, and simply including them in a conversation can be a great way to help an author you like.
Review their book on Amazon and/or Goodreads. We're not talking professional grade reviews here, folks. Even a paragraph explaining your thoughts, pro or con, add to the discussion and potential interest in a novel.
Give their book as a gift to someone. Lending a good novel to your friends is cool. Buying that same book not only moves the needle for the author (sales-wise), but it puts your money where your mouth is.
Pass on the praise. Sometimes you don't even need to initiate the promotion. Retweet a good review of a book you liked. Draw attention to an interview with the author. Share an award or nomination the author received. Celebrate the successes of authors you like. I promise, it'll come back to you!
LIKE their author page. Whether it's Amazon or Facebook or whatever. It's surprising how many industry folks use these "numbers" to gauge an author's popularity.
LIKE their book. Once again, be it Facebook or Amazon or Goodreads, these things matter. For every one Like there's probably a dozen readers who actually "liked" the book but didn't bother to click the button.
TAG their book. This is an Amazon feature that, I'm learning, is an important part of aggregating and ranking similar titles. The more a book is Tagged within a certain genre, the more possible readers of that genre can find the book. (Here's a cool 7 minute video on Liking, Sharing, Tagging, and Reviewing Books on Amazon by author Michael Hicks.)
Buy their books. An obvious no-brainer, but one often ignored. Waiting for giveaways and freebies, or joining blog tours just to get free books, is not cool. Don't get me wrong. We writers appreciate your positive reviews of our books. But we'd appreciate it more if you actually bought them.
Become a Follower. Okay. This is simply a "numbers" thing. But it's also one of the funnest parts about being a writer and a reader nowadays. Heck, when else could you access Chuck Palahniuk's stream of consciousness?
Email them with an encouraging word. Of course, this does nothing for an author's "numbers." But you'd be amazed at how significant and timely a personal word of encouragement can be for us writers. Even more surprising, is how many readers will LOVE a book, and never ever tell the author. Have you taken time recently to email a word of encouragement to an author you like?
In his post, Want to help books survive? Promote authors yourself, John Self  writes
…if your favourite book isn't getting coverage anywhere else, then you have to spread the word yourself. Ask not just what the author can do for you, but what you can do for the author.
In this new wild west of publishing, you the reader have more power than you think. Readers are now more accessible and more empowered than ever before to help promote authors and books they like.
Perhaps the key, then, is mobilizing them.
So I hereby pledge to not be shy about asking you to Like my Amazon author page ("the Like button's on the upper right" 😉 ), to Like my novels, to Tag my novels, to review my books, to Follow me on Twitter, to Friend me on Facebook, or to maybe even, give my books as gifts.
Now the ball's in your court.