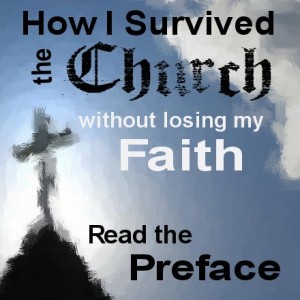 This is an excerpt from the non-fiction project I am currently working on. Tentatively entitled How I Survived the Church (Without Losing My Faith), this memoir-style project will trace my troubled upbringing, my conversion to Christianity and call to the ministry, and the eventual disbanding of my church. Along the way, I will introduce you to people and discuss events that have convinced me of one essential truth: Following Jesus means loving His Church… no matter how flawed she is or how painful the process. In an age where it is en vogue to bash the Church and bail on organized religion, looking in the mirror rather than pointing fingers is becoming a lost but necessary art. My hope is that those who have been wounded, abused, or disappointed by the Church would find strength to remain, wisdom to forgive, and renewed joy in the ever quirky, sometimes exhausting, always colorful fellowship of the saints.

* * *
Much like the band on the deck of the sinking Titanic, we were gathered there, not to entertain, but to placate. In the face of the icy Atlantic, going through the motions must have been incredibly noble. Or very pointless. In August 1997, some of my friends and family went through similar motions. However, we were not facing death.
Just the death of our church.
Seventy-some people joined us for our final church service. But despite the "thank yous" and "hallelujahs," we could not make our praise sound any less bleak. Like the fateful Titanic band, we played on until the end, which was either incredibly noble, or very pointless.
At our inception, we were a mid-sized non-denominational church, maybe 200-220 members. I was one of two full-time staff pastors. We were byproducts of a church merger. That merger consisted of a congregation I had pastored for five years, and a sister church. This newly formed body had remained together for six more years until that day, amidst tears, confusion, and not a little anger, we watched her disappear under the cold gray waves.
The disbanding of the church was a tragedy on so many levels. It remains one of the most painful, trying experiences of my life. We launched with so much promise, only to run aground. Years of impassioned prayers and faithful service sunk under the weight of human frailty and sin. The church wasn't growing, and the leadership could only look inward. Before long, we met the enemy, and it was us. Charges of pride and divisiveness were leveled. Pastors were disciplined as others left the church, drawing wounded sheep with them. Accusations flew. Sides were chosen. Scathing "words from God" scribbled on notes arrived anonymously on our office doorstep. Some accused us of running a cult. Others charged defectors with running from the truth. A noble contingent hung on until the end, believing that the gates of hell could not prevail against the Church. Tragically, a few young believers were left shipwrecked in their faith.
According to pollster George Barna, in America, 3500 to 4000 churches close their doors each year. So shutting down our church was not quite an anomaly. But the human cost was inestimable. No statistics can quantify the amount of toxins such a thing releases into ones heart. Bitterness. Distrust. Cynicism. Like a dog having been kicked one too many times, you learn to keep your distance. And for several years after I left the ministry, I did just that.
I kept my distance from the Church.
In a way, the collapse of our church reinforced something I'd been battling all my life. My father was an alcoholic who literally ran me out of the house when I turned eighteen. Having barely graduated continuation school, with no marketable trade skills, I wandered from one dead-end job to the next. I'd always had an artsy, philosophical bent, and with it came a hunger for something spiritual, something more than just hollow religious rituals. Something substantive. But the dry Catholicism of my upbringing had left me empty, unengaged. My abrupt launch into adulthood (via my father's boot) sent me on an existential quest that led into mysticism, occultism, and hallucinogenic experimentation, eventually landing me flat on my back in a hospital bed. Until in the spring of 1980 at the age of twenty-two, I responded to an altar call at a local church and confessed Christ as my savior. My life changed immediately. Within five years, I would be married, on the way to my fourth child, ordained, and planting a church in my hometown.
You could say it was a set-up for failure.
It's also something I wouldn't trade for the world.
Surveying the emotional rubble of our church, having watched eleven years of ministry shot to hell, it seemed to confirm something I knew all along.
Organized religion was deeply flawed.
And so was I.
These two truths have sustained me during the dark interim. No one joins a perfect church. And the minute we join any church or any group of Christians, the more imperfect it becomes.
This ugly reality is not avoided in the pages of Scripture. Whether it's Christ's disciples squabbling amongst themselves about who was the greatest or the Corinthian Christians taking each other to court and bingeing at the communion table, the Church is a flawed Bride. It's as true of its members as it is its leaders.
Like Moses.
Moses is typically considered the greatest leader in biblical history. Nevertheless, he too watched his "ministry" crumble. Having been miraculously rescued from the reedy Nile, summoned from the life of a simple shepherd by a burning bush, Moses wandered the wilderness for forty years, enduring the sniping, ever-unbelieving Israelite rabble that he was called to lead.
It finally took its toll on him when he raised his voice against God's people— "Listen, you rebels, must we bring you water out of this rock?"—and smote the boulder in his fury (Numbers 20:8-12). God quenched their thirst. However, He was very unhappy.
There's some debate as to what "the sin of Moses" actually was—anger, pride, disobedience, false witness? Whatever it was, it brought the curtain down hard on decades of ministry. Moses was forbidden from entering the Promised Land.
Yet shortly before his death, God allowed him to see what could have been.
Then Moses went up to Mount Nebo from the plains of Moab and climbed Pisgah Peak, which is across from Jericho. And the LORD showed him the whole land, from Gilead as far as Dan; all the land of Naphtali; the land of Ephraim and Manasseh; all the land of Judah, extending to the Mediterranean Sea; the Negev; the Jordan Valley with Jericho—the city of palms—as far as Zoar. Then the LORD said to Moses, "This is the land I promised on oath to Abraham, Isaac, and Jacob when I said, 'I will give it to your descendants.' I have now allowed you to see it with your own eyes, but you will not enter the land." (Deuteronomy 34:1-4 NLT)
Today, the view from the summit of Mount Nebo provides a panorama of the Holy Land. The Jordan River, the West Bank city of Jericho and, on a very clear day, Jerusalem. From his vantage point, Moses could finally see the finish line. All those years trudging through the desert, communing with God, toppling golden calves, and faithfully mediating between quarreling parties. Yet now he could only watch as his "congregation" left him in the dust.
What went through Moses' mind on top of Nebo, hair whipping about his wind-burnt face as he gazed into a land flowing with "milk and honey"? Were there regrets? Was he mad at God? Was he mad at the people of God? Or was he relieved to be finally free of a burden he could never really carry?
Some sixteen years removed from my individual exodus and the journey seems much clearer. I have perspective in a way I didn't then. Some of this perspective comes at the expense of pastor friends, having watched them slog through the ministry as I did. Some comes watching the myriad of church-hoppers never able to find that elusive "perfect church." Even worse are those who chuck it all, and abandon the faith for agnosticism or some gauzy, self-styled belief. Then there's the perspective borne of my own sin, realizing that I have smote my share of boulders and profaned God before His people.
Along the way, I too have been tempted to leave, to join the growing chorus of naysayers throwing in the towel on organized religion. But while being "spiritual not religious" is en vogue these days, becoming so at the expense of "the communion of the saints" seems equally misguided.
As Augustine put it, "Yes the church is a whore; but that whore is the bride of Christ and she is your mother and you have no right to abandon her." Truth is, no matter how unlovely she looks, or how many times she hurts us, the Church is our mother.
Later on in the Bible, Moses appears again. This time, he is with Jesus on another mount, the Mount of Tranfiguration, in glory (Matt. 17:1-3). Apparently, Moses made it to the Promised Land after all. He didn't throw in the towel and give God the finger. He continued the journey home.
This is a story about how I survived the Church without losing my faith. It's a story about being called into the ministry, and back out, and the beating that has made me better. It's about finding a place to rest, a "radical middle," where I can safely chart a way home. Above all, it's a celebration of the grand, weird, wonderful diversity that is the family of God. My prayer is that readers, who find themselves on their own personal Nebo, teetering between faith and doubt, would pause with me to survey the land. And find the courage to continue their own journey.
* * *
If you would like to contact me privately about this project, lessons you've learned along the way or even share painful stories about how you've been hurt by Christians and/or the Church, I'd love to hear them. Drop me an email HERE. If you are a publisher with interest in discussing this project, you can contact me or my agent Rachelle Gardner.