One argument against America being a "Christian nation" is the plethora of esoteric philosophies and movements—from Transcendentalism to Freemasonry, from Hoodoo to New Thought—that have dramatically shaped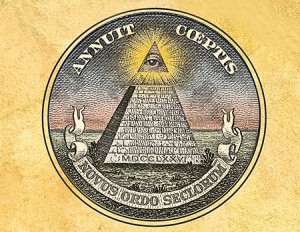 our nation's culture, politics, and religion. Mitch Horowitz, author of Occult America, writes,
Scholars of American history have often dismissed occult traditions, such as Spiritualism, Mesmerism, divination, channeling, and mental-healing, as little more than oddball social trends to be analyzed, fretted over, and debunked. This is a mistake. To really grasp the religious development of our nation, its occult movements and believers must be understood for what they are: communities of belief, who left a profound impact on the culture of America and the modern world.
I mentioned in my 2012 reading list that Occult America was one of my favorite non-fiction reads of the year. I'm not an occultist. So some of the book seemed overly-dramatized and rather favorable to the religious brew it samples. Nevertheless, the book provides a fascinating glimpse into forces — specifically those of an unorthodox variety — that have greatly shaped who we are as a nation.
Here's a smattering of examples :
The Great Seal of the United States, which we still find on our currency, contains a Latin maxim that can be roughly translated "'God Smiles on Our New Order of the Ages.' It is Masonic philosophy to the core." (pg. 26)
"[Abraham] Lincoln hosted a seance in the Crimson Room of the White House." (pg. 59)
"In 1872, the Equal Rights Party, a consortium of suffragists and abolitionists, named trance-medium Victoria Woodhull the nation's first female presidential candidate." (pg. 63)
Ronald and Nancy Reagan "openly consulted astrologer Carroll Righter and Psychic Jeanne Dixon." (pg. 221)
Game manufacturer "Parker Brothers bought the rights to Ouija for an undisclosed sum in 1966… the following year, Parker Brothers is reported to have sold 2 million Ouija boards — topping sales of its most popular game, Monopoly." (pg.73)
"[Edgar] Cayce had an influence so vast that the accumulated record of his readings ultimately altered the American vocabulary, making words like reincarnation, channeling, past lives, and psychic into household terms." (pg. 230)
"The first American-born woman to become a recognized public preacher was [medium] Jemima Wilkinson." (pg. 3)
"Even at the highest rung of American politics, the Iowan farmer — seeker Henry A. Wallace, who served as Franklin Roosevelt's second vice president, drew ethical ideas from his lifelong passion for the occult and envisioned the dawn of a spiritually enlightened 'New Deal of the Ages.'" (pg.4)
Horowitz even points out how "Suffragism and related progressive movements" were directly spawned from this occult hotbed:
By the 1830s and 40s, a region of central New York State called "the Burned-Over District" (so-named for its religious passions) became the magnetic center for the religious radicalism sweeping the young nation. Stretching from Albany to Buffalo, it was the Mt. Sinai of American mysticism, giving birth to new religions such as Mormonism and Seventh-Day Adventism, and also to Spiritualism, mediumship, table-rapping, séances, and other occult sensations–many of which mirrored, and aided, the rise of Suffragism and related progressive movements. The nation's occult culture gave women their first opportunity to openly serve as religious leaders–in this case as spirit mediums, seers, and channlers. America's social and spiritual radicals were becoming joined, and the partnership would never fade.
This is not to downplay the very real Christian influences that have also shaped our nation. Nevertheless, it is startling, if not unnerving, how many esoteric, occult symbols and practices are been incorporated alongside and assimilated into familiar Christian heritage. Even something as "American" as "self-help" and positive thinking," strains of which can still be spotted in the Robert Schuller's and Joel Osteen's of the religious world, have deep roots in the occult. We might be "One Nation Under God," but that nation appears rather schizo about the God (or gods) it's under.
Of course, it's debatable how many of these disparate spiritual threads have contributed positively to the shaping of America. What can't be disputed is that they have contributed. So while America may not be a Christian nation, one thing that can't be disputed is that she is, indeed, a spiritual one.