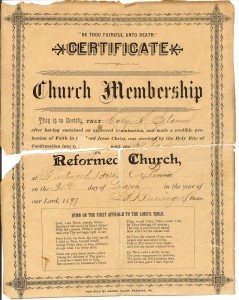 There is considerable debate among believers about church membership. While some ask if it's even biblical, others debate how steep requirements should be. Must it involve baptism, a signed pledge, tithing, doctrinal profession, etc.? Then there are those who believe that dogma and rigid theological statements completely alienate our postmodern culture and misrepresent the subjective nature of truth. Leading them to believe that church membership is an idea whose time has passed.
During my pastorate, I struggled greatly with this idea of church membership. On the one hand, the early church clearly had membership requirements: inclusion through public profession of faith and baptism, participation in the sacraments, submission to church leadership and church discipline, etc. Raising the bar on church membership may thin the ranks, but it could ultimately lead to a healthier, more committed body. On the other hand, culture HAS changed! Not only are we more transient, changing jobs and cities with fair regularity, respecting people's autonomy and points-of-view is crucial to winning a hearing.
Which is why I found An Interview with Mark Driscoll on Doctrine so interesting. The article is a few years old now, but it provides a fascinating glimpse into this mega-church pastor's unconventional approach to church membership. And how, for him, it works.
As the tree grows and the fruit increases, the roots need to sink deep as well. So, when our [church] attendance was at about six thousand people a few years ago, we did something unprecedented. We canceled out the membership of everyone in our church and I preached the Doctrine series for thirteen weeks. Each sermon was well over an hour and included me answering text-messaged questions from our people.

Those who made it through the entire series were interviewed, and those who evidenced true faith in Christ and signed our membership covenant were installed as new members. We had always had a high bar for membership, but I wanted to raise that bar higher as we pursued our goal of becoming, by God's grace, a church of fifty thousand. In so doing, we lost about a thousand people, dropped to five thousand total, and missed budget for the first time in our church's history. We then rebounded over the next few years to ten thousand people a week and as many as thirteen thousand on our peak weekend. We had pruned, which hurt, but then we harvested, which was healing. It's not all about the numbers, and we were willing to lose a lot of people, but God proved that there is power in the gospel and that a people united around core biblical doctrine can be used by God to bear much fruit by grace.
Sure, we can argue metrics. Is the size of the congregation indicative of health? In a church this size, numbers can be deceiving. Nevertheless, I think Driscoll's desire to raise the membership bar was bold. I mean, how many pastor's today would even think about making it harder for a person to be a member? Of course, most pastors aren't starting with 6,000 members.
What's most intriguing is the two diametrically opposed views at the heart of this debate. While some would celebrate the raising of the bar of church membership, and probably frame it as a precursor to revival, others would suggest that this type of demanding, theological specificity is exactly what's killing the American church. So while one approach seeks to attract and grow people by being MORE demanding and doctrinally articulate, the other seeks to attract and grow people by being LESS demanding and doctrinally articulate. These two approaches are indicative of our changing religious landscape and the tug-o-war taking place inside Christendom.
In my view, there are good arguments for and against a "high bar" for church membership. On the one hand, being a Christian means something and the Church does a disservice to interested parties by downplaying those demands or distinctives. After all, Jesus said the road to eternal life is narrow (Matt. 7:13-14) and cautioned His followers to count the cost (Lk. 14:25-34). Christianity without qualifications not only "broadens" the road, it cheapens the cost of discipleship. If anything, church membership should remind us about the parameters of the road we travel and the cost of staying on it.
On the other hand, the Church is called to love others, embrace others, and woo the world to her Savior. Requiring formal church membership is hardly an attractive evangelistic tool. In fact, Jesus did not hammer potential followers with doctrinal statements or a strict list of requirements. Which is one reason the religious establishment chafed against Him. Yes, once a person was on "the inside" things changed. There were communal, ethical, as well as theological expectations. Of course, most of these were seen as part of an ongoing growth spectrum. (After all, a thorough understanding of the Trinity, Justification by Faith, and Sanctification doesn't happen overnight… if it happens at all!) For this reason, the creeds of Christendom served less to fire the Gospel than to nourish those who eventually embraced its message. So whatever church membership should be, it should not eclipse the magnanimous love of our Savior and impede one's journey there.
All that said, I personally find more danger in an un-defined church membership than an overly-defined membership. But it's still a debate worth having. Should Christian churches have a "higher bar" for membership or require "less qualifications" for inclusion? Either way, in today's transient, postmodern culture, it's worth asking whether church membership is even relevant.