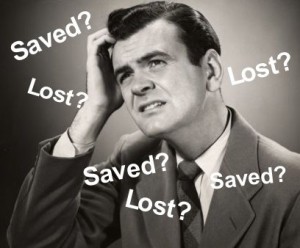 In his review of Scot McKnight's A Long Faithfulness: The Case for Christian Perseverance, Ardel Caneday, professor of New Testament and Greek at the University of Northwestern in St. Paul, Minnesota, concentrates on the linchpin of McKnight's rejection of Calvinism: the perseverance of the saints.
McKnight… challenges God's sovereignty with regard to salvation—"whether or not humans can both choose for God and then later choose against God." In his aim to refute the doctrines of unconditional election and meticulous sovereignty, McKnight extrapolates on the premise that the "debate about meticulous sovereignty, at times, hangs on how best to read the Warning Passages in the book of Hebrews" (249).
"Eternal security," or "The perseverance of the saints," is critical in the Calvinistic scheme. If regeneration is entirely God's deal (monergism) and not a result of God and Man in tandem (synergism), then losing ones salvation is not possible. If salvation doesn't originate with you, it can't be terminated by you.
But then there's those pesky Warning Passages. Perhaps the most important is this one:
It is impossible for those who have once been enlightened, who have tasted the heavenly gift, who have shared in the Holy Spirit, who have tasted the goodness of the word of God and the powers of the coming age and who have fallen away, to be brought back to repentance. To their loss they are crucifying the Son of God all over again and subjecting him to public disgrace. — Hebrews 6:4-6 NIV
Caneday summarizes McKnight's conclusions regarding the application of the above verses:
Concerning the warnings in Hebrews, McKnight reasons, "[I]f we let these passages say what they really do say we cannot believe in meticulous sovereignty. These passages teach us that God's sovereignty entails his decision to give humans the freedom to choose God and even after choosing God to walk away from that choice and un-choose God" (498-500). Given his reading of the warnings, McKnight claims that Scripture counters belief in meticulous sovereignty since God has "surrendered an element of sovereignty to humans because he values their freedom" (870). These warnings, he concludes, teach that even Christians can resist God's grace—that believers "can choose to un-choose God and walk away from God's grace" (881). (bold mine)
So the equation is pretty simple:
If you can "choose" God, you can "un-choose" God.
If God chooses you, you can't "un-choose" God.
For a while, I attended a church that believed that a Christian could lose their salvation. They scoffed at the phrase, "Once saved, always saved." Proof texts like the Warning Passages above were very important in that they kept believers on edge, driven, sometimes guilty, providing motivation to good works and striking fear into the hearts of sinning saints. I mean, what better reason to keep the faith than that you might lose it tomorrow?
I am not a biblical scholar. Also, I'm not a full-blown Calvinist. But I tend to side with Calvinists here. With a caveat. Here's my reasoning:
My children will always be my children. That is their nature. They were conceived and born bearing my imprint (I know, bummer for them). No matter what they do, they will be intrinsically linked to me. If they become serial killers, pirates, or Yankee fans, they will still be my children. They cannot "un-choose" me as their father.
Likewise, once a person is "born again," invested with God's nature, and possess "the right to become children of God" (Jn. 1:12), they cannot go back. Scripture does not portray salvation as something one drifts in and out of. Today, you're saved. Tomorrow, you're not. The next day is anyone's guess. If salvation is this fluid, it would imply that someone can be "born again" multiple times. Saved. Then lost. Then saved again.
From my layman's perspective, there is no category for being born again, again. Salvation is a unique, singular event, that permanently alters your nature. You can no more "un-choose" your Father as my children can "un-choose" theirs.
So what do we do with passages like the above? I mean, it seems rather clear. The author is speaking of someone who has
once been enlightened
tasted the heavenly gift
shared in the Holy Spirit
tasted the goodness of the word of God
and the powers of the coming age
Is this individual saved? Some argue "no." They've just witnessed, sampled, or flirted with salvation. Which is why those who prescribe to an "eternal security" position take great pains to deconstruct such Warning Passages. If this person was never saved, then they aren't losing anything.
Once again, from my uneducated view, this interpretation seems unlikely. For the writer goes on to contrast those experiential elements (being "enlightened," tasting the "heavenly gift," and sharing in the Holy Spirit) against those "who have fallen away" and cannot be "brought back to repentance." But…
One cannot "fall away" from an estate they never inhabited.
One cannot be "brought back" to a place they never occupied.
So does this mean a Christian CAN lose their salvation? Here's where I'm at on the matter. It might sound wishy-washy. I'm open for other interpretations. But based on this Warning Passage, particularly this phrase,
It is impossible for those who have once been enlightened…  and who have fallen away, to be brought back to repentance (bold mine)
I've concluded that: If — IF — a person can lose their salvation, they can NEVER go back. They are in a permanently apostate condition.
Your thoughts?