I almost went there. You know, to the Dark Side.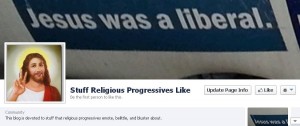 So this weekend, I posted THIS UPDATE on Facebook. It's my idea for a Page that would catalog, critique, and ridicule some of the nonsense that religious progressives spew. A parody of parody sites. It's been brewing for a while now as I've followed sites and bloggers bent on bashing conservative evangelicals.
I had been undecided on publishing such a project, but had went so far as to start recruiting a team of admins. I secured the FB URL and started toying with a header. But after reading some of the responses to that post, I returned to my right mind.
Like this comment from Alan:

This from Melissa:

And this from Jessica:

I think they're right. I'm too tightly wound for this stuff. And I think it's 'a bit like bowing to their level." It's "an eye for an eye." It's not edifying. Yes, I believe religious progressives are hurting the cause of Christ. Yes, I believe sites and bloggers who devote themselves to this kind of policing are fueling hatred, not healing. And yes, I will continue to discuss and debate this issue.
But I can't make this my "mission."
God, no.
I've got projects I'm excited about right now, which give me energy and don't drain me. Following religious progressives THAT closely would do just the opposite. It would damage my soul. Besides, I just don't have the time. I don't have the constitution, either. I get obsessed with things too easily as it is! It would scar my moral retina to stare too long at such a thing. It would leave me crippled. Hating.
So it's trashed.
I may have to unfriend some people to get some distance. I may have to stop reading some of these websites. Whatever. I need to turn a corner. Pray for me. But I just can't go there.
Sorry, Emperor. You lose.