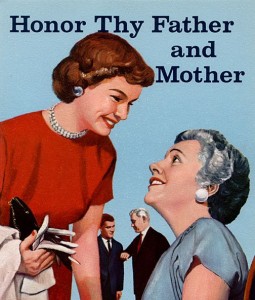 Once, while in the ministry, I received a letter from a woman who'd been sexually and emotionally abused as a child by her parents. At the time, she was a relatively new believer, growing steadily in her faith. Until she encountered this verse:
Honor your father and your mother, that your days may be long in the land which the Lord your God gives you. — Exodus 20:12 (RSV)
It threw her for a loop. How does an abuse victim "honor" the people who abused her? Or maybe a better question is, Should an abuse victim honor the people who abused her?
The above verse would seem to suggest "Yes." I mean, there's no qualifiers: "Honor your father and your mother IF… they were good parents." So honor and respect appears unqualified.
But how can this be? How can someone hold an abuser accountable while still "honoring" the office they occupy or respecting their biological connections? On what grounds does someone deserve respect before earning it?
It's a question I've struggled a lot with over the last 15-20 years. Mainly because of the bigger issue of "authority," how the Bible frames that issue, and the experiences I had in the ministry. You see, I've been on the giving and receiving end of the misuse of pastoral authority.
Nevertheless, I still honor, respect, and submit to pastoral authority.
Here's another one of those "problematic" authority verses:
"Let every soul be subject to the governing authorities. For there is no authority except from God, and the authorities that exist are appointed by God. Therefore whoever resists the authority resists the ordinance of God, and those who resist will bring judgment on themselves." — Romans 13:1-2
Oftentimes, you will hear someone of a certain political persuasion say, "I respect the office of the President. But…" Then they will go on to slam the President. So how are you respecting the office of Presidency while slamming the President?
This verse, like the previous one, seems to suggest that the very office, whether it's being used or abused, is invested with God-given authority. Parents, pastors, governing authorities, etc. "are appointed by God." I don't take this to mean that every individual authority, including the worst of tyrants and dictators, was hand-picked by God. Rather, "government" (in a generic sense) is reflective of the larger order of the universe. There are authorities — human and angelic — the greatest of which is ultimately God.
As such, all "rebellion" against authority can be traced back to Satan, who defied the Ultimate Authority and tempts us to do likewise. If this is true, then dishonor and disrespect of authority is a microcosm of Satan's original defiance.
Of course, there are times to "obey God rather than man" (Acts 5:29), where "submission" would be downright disobedient. Nevertheless, you have the above verses (and more), which tell us to honor, respect, and submit to individuals in authority over us.
The trend nowadays is to "question authority." Which seems just the opposite of what the Bible teaches. In this mindset, respect is earned, not given. The sentiment goes something like this: I will honor or humble myself for no one until they prove they deserve it.
But this kind of thinking is problematic. We become the arbiter of who deserves our respect. If someone impresses us or meets our personal criteria, i.e. earns our respect, we will honor them. If my parents were good parents, by my standards, they've earned my honor. If my pastor is a good pastor, they've earned my respect. If the President aligns with my politics, they've earned my respect. And if someone doesn't, they don't.
But is this really the attitude, the posture of heart, God requires?
Scandals and abuses of power should make us more cautious and suspicious. Human authority cannot be unchecked. However, in all our testing and questioning of authority, we must be careful not to mimic the Original Rebel who shook his fist at the Ultimate Authority.