Can a person be 100% certain there is a God in this life?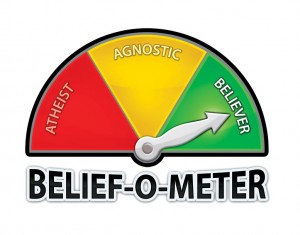 If you answer "yes," how can a person be absolutely, indisputably, unreservedly, positively confident about the existence of Someone they have not and cannot physically see, locate, hear, or touch? Isn't there even the slightest possibility that they can be mistaken, only partly right, or even deceived? None of us are infallible. So when it comes to belief in God, is 100% certainty even possible?
If you answer "no," what percentage of certainty must one have to be a believer? Ninety-percent certainty? Seventy-five percent certainty? Or does anything over fifty percent certainty count as belief?
We commonly, perhaps wrongly, consider that people either "believe" or they "don't believe." I mean, Christians are called "believers" for a reason. They believe in certain things — that there is a God, that the Bible is God's Word, that Jesus Christ lived, died, and rose again from the dead, etc. But is belief a black and white proposition? Are we either "in" or "out"? And if so, what is the threshold that one crosses to move from a unbelief to belief? Is it stark, or is there a grey area of agnosticism one must pass through to become truly believing?
The Bible seems to suggest that belief is less cut-and-dry than we sometimes make it. Faith is not something we either have or don't have; it's something we can have in differing proportions.
For instance, the Gospel of Mark chapter 9 contains the story of a boy with an evil spirit who is cured by Jesus. During the event, the boy's father pleads with Jesus thus,
"I do believe; help me overcome my unbelief!" — Mk. 9:23

The implication here is that one can be both believing and unbelieving at the same time. Think of it as a Faith Scale with opposite balances. One side is weighted with Belief, Surety, or Confidence, the other side with Doubt or Skepticism. Christ often implored His listeners to believe. In fact, He did certain things to bolster people's faith in Him, to tip the scales away from Doubt and more toward Certainty.
In his book, Love Your God with All Your Mind, Christian apologist J.P. Moreland provides a helpful perspective on this subject of belief:
It is unproductive to try to believe something beyond your grounds for believing it and dishonest to act as if you believe something more strongly than you do. Overbelief is not a virtue. For example, I am far from certain on many Christian beliefs I hold. I lean toward the view that the days of Genesis are vast periods of time and not literal twenty-four-hour periods. But about two days of the week I flip-flop and accept the literal view. Based on my study, I cannot convince myself either way, and I'm about sixty-forty in favor of the old-earth position. Other beliefs of mine have grown in certainty over the years — that God really exists, for example. We should be honest with ourselves about the strength of our various beliefs and work on strengthening them by considering the issues relevant to their acceptance. (emphasis mine)
I glean a couple of things from this approach. First, it is not wrong to admit uncertainty concerning some beliefs. In fact, it is virtuous. Like Moreland, I confess a measure of uncertainty concerning some theological issues. While my belief in the existence of God has grown over time (I'm definitely in the high nineties), my certainty about other issues has changed. Things like my personal belief in a literal hell (probably now at 60/40), a literal Adam and Eve (80/20),  a young earth (20/80), and a complementarian view of gender roles (70/30) are all in a degree of flux. Does this make me unbelieving? I don't think so. Truth is, we cannot grow in certainty until we admit, like the father of the possessed boy in Mark 9, that we are unbelieving. In fact, the admission of uncertainty might be the most important step toward truth.
Secondly, "[o]verbelief is not a virtue." I like that term — overbelief. At a certain point, faith can be forced. For example, we know we should believe that the Bible is God's Word, inerrant and infallible. But we haven't researched the subject enough to tell anyone in detail why we believe such a thing. We've trusted the experts to do the thinking for us and simply choose to exercise faith in their opinion or our church's stance. However, deep down inside we have no grounds for such confidence; our faith is really just an intellectual leap. On top of this is the false strain of teaching so prevalent in the American church that suggests that faith plays an important role in things like physical health and financial prosperity. As if faith is force I can will to grow. Of course, faith plays a huge part in a relationship with God. But forcing yourself to be confident about something you have little grounds for or have genuine questions about is not faith, it's folly. In this way, overbelief is just as flawed as underbelief.
Question:  Do you think a person can be 100% certain there is a God? What are some personal beliefs you've found changing over the years, growing stronger or waning? How do we harmonize the Bible's teaching about having faith with the need to be honest about our doubts and uncertainties?