During Christmas break, my wife and I took in a couple movies. Being that I'm a big Martin Scorcese fan, we considered seeing The Wolf of Wall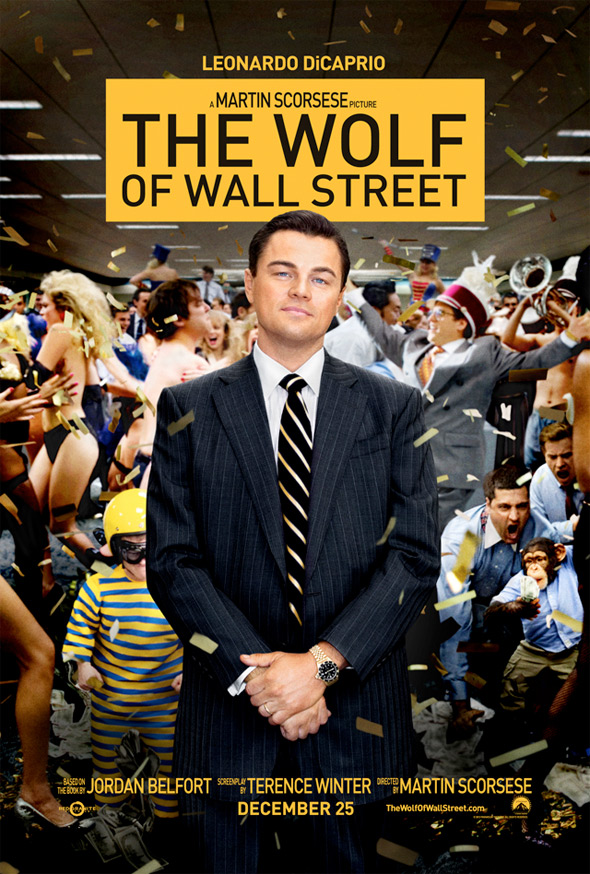 Street. But after hearing the reactions of viewers and critics, I was conflicted. While the movie was included on many year-end Best Of Lists, some of my Christian friends were terribly offended. One couple left the theater only twenty minutes in. Another said the movie should have been rated X. Still another described it as a cinematic orgy that celebrated debauchery and sin.
And then there were those Christian reviewers who said it was one of the best movies of the year.
Take for instance Jeffrey Overstreet's detailed piece, Respect The Wolf of Wall Street (The Movie, Not the Man). Overstreet sees the film as a profound exposition of evil. He writes,
Every year, there's at least one movie that stirs a lot of evangelical Christians into condemning that movie as evil when, in fact, the filmmakers' intentions were to zoom in and expose evil… the way doctors enlarge X-rays to expose cancer… so that we will be shocked by the reality of it, live in greater awareness about it, avoid it, and avoid contributing to the conditions that make it possible.
That seems like a fairly big divide, doesn't it? Exposing evil or celebrating evil. But discerning an artist's or filmmaker's intention to do one or the other is not always that easy. In the case of The Wolf of Wall Street, that's not the case.
The director tells us his intentions.
Overstreet links to a fascinating interview with Martin Scorcese about his film. Among other things, the director notes how audiences have become inured to morality tales. Wall Street guy goes bad, goes to jail, and gets what's coming to him. Problem solved. Crime never pays. The End. That formula has left audiences jaded. Scorcese, however, intends to show that the real crime is that, often, crime DOES pay. Scorcese:
I didn't want [audiences] to be able to think problem solved, and forget about it. I wanted them to feel like they'd been slapped into recognizing that this behavior has been encouraged in this country, and that it affects business and the world, and everything down to our children and how they're going to live, and their values in the future. It's almost becoming like, these days in Hollywood, people misbehave, they have problems in their lives, drugs, alcohol, they go to rehab and come out again. And that means it's okay, it's an expected ritual you go through. You make a film about slavery, it's important for young people to understand and see it vibrantly presented on the screen. And when you make a film that just points up and decries the terrible goings on in the financial world and the financial philosophy and the financial religion of America, we do that a certain way and it makes us feel okay, that we've done our duty, we've seen the film, given it some awards and it goes away and we put it out of our minds.
Thus, the director's intention was to make a film we could not easily put out of our minds; a film that did not simply revel in godlessness and excess or flatly condemn it, but exposed the culture that celebrates such excess; a film that did not unwind as a predictable morality tale, but left us to ponder a disturbing ambiguity.
But how does an artist portray evil without appearing to celebrate it?
How does a director show that sometimes crime DOES pay without being interpreted as condoning crime?
Apparently, the nuance of such artistic intentions is lost on some. For instance, Focus on the Family's movie reviewer gave the film zero out of five stars. Translation: There is no redeeming quality to this stinking pile of filth.
Martin Scorsese's The Wolf of Wall Street is among the most bludgeoning—if not the most bludgeoning—films ever to be granted an R rating. Indeed, much has been made of the fact that it barely escaped an NC-17.

It should not have.

There is—ostensibly, theoretically—a cautionary tale about the perils of lust and greed woven into Jordan Belfort's [the author's] story. But since the film concludes with him getting paid to give motivational speeches sort of soils that suggestion. That, and the fact that all along the way we're invited to cheer for this ruthlessly greedy, sexually predatory, chemically dependent, foul-mouthed and narcissistic antihero. Invited to want him to somehow escape the judgment he should assuredly face.
Please note, the exact thing that this reviewer decries — that the hero escapes the judgment he should face and, in fact, is rewarded — is the exact point the filmmaker intended to trouble us with.
So the real problem is not in the portrayal of evil, but in the audience's interpretation of that portrayal.
Mind you, there are some very thoughtful evangelical responses to The Wolf of Wall Street (like Trevin Wax's Evangelicals and Hollywood Filth) which avoid knee-jerk condemnations. Indeed, there ARE reasons some Christians should avoid the movie. But equally to be avoided are blanket condemnations that force an interpretation of the film to fit our moral coda.
Which is probably why I like Overstreet's conclusion:
Do I recommend [the film]?

Ah, there's the rub.

I cannot answer that question.

Consult your conscience, and if you proceed, then do so with extreme caution. This is a film that holds up a mirror to the behaviors and values of America's richest and most influential people, not to mention the values of so many Americans who equate money with success and happiness.

Many will be so shocked and offended and upset by what they see that it will do them more harm than good. Some might find the allure of the wealth, the drugs, the sex, and other misbehaviors more tempting than dissuading, and that could do real damage. But that tells me more about the viewer than the artist. Evil is dangerous because it is in some ways appealing, and any meaningful depiction of evil will show that. The artist is only showing us the ugly truth, like Hamlet's R-rated stage play for the murderous king, causing us to see the weaknesses of our leaders, our nation, and ourselves, so that that we are shocked into meaningful contemplation.

In closing: Please, be generous with each other. Don't judge a movie you haven't seen. Don't judge others for their responses. And don't judge artists for painting pictures of what they see happening in the world around them. (emphasis in original)

As Christians, we must allow artists the freedom to meaningfully explore and portray evil without demanding "cautionary tales" and cut-and-dried resolutions, or accusing them of endorsing the evils they portray. If not, we concede to formulaic storytelling where everything is spelled out:
Very bad guy
gets what's coming to him
because crime doesn't pay.
The End.
But in that case, "meaningful contemplation" is not required.