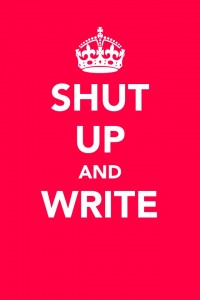 If you're a novelist, there's good reason to keep your politics to yourself.
Then again, some authors are very vocal about their politics and seem to do just fine.
So what gives?
In an interview with Time Magazine, John Grisham cautioned,
One thing you really have to watch as a writer is getting on a soapbox or pulpit about anything. You don't want to alienate readers.
But does talking politics always "alienate readers" from a novelist?
New York Times best-selling author Brad Thor might disagree. A brief perusal of Thor's Twitter stream will reveal a novelist wired for politics. For instance, this:

or this:

or this:

Thor's outspokenness doesn't seem to be costing him many readers.
I'm beginning to wonder if Thor's approach isn't the more prevailing one.
Early last year, Christy-award winning author Lisa Samson, whom Publishers Weekly hailed as one of the "most powerful voices in Christian fiction," wrote a piece for Huffington Post entitled:  Confession From A Christian: I'm Not Trying To Change My Gay Friends. Samson concluded her piece:
I look at each of my gay friends, who are now just friends, and I am thankful that after all they've had to put up with from Christians these days, they even let me love them at all.

Oh, and by the way, "Love the sinner, hate the sin?"

Really?

How about we just love our friends and be thankful they don't hate our sin? Do any of us, gay, straight, tall, short, black-haired or blonde and any shade in-between deserve any less? Maybe if we spent less time doing the job we think God should be doing, we'd be doing the job God actually is doing. And maybe, just maybe, we'd learn to love like Jesus.
By the looks of the near 1K comments, Ms. Samson has won — not lost — readers by her commentary.
Yesterday, the interwebs were alive with debate regarding the so-called anti-gay bill that was vetoed by Arizona governor Jan Brewer. I waded into a couple of these exchanges. But perhaps more surprising than the heat generated by the issue, was the number of novelists and industry professionals beginning to chime in. Like THIS LITERARY AGENT whose comparison of the AZ bill to Nazi Germany's discrimination against Jews unleashed a torrent of give-and-take.
On the other side of the aisle is someone like novelist Larry Correia who is equally up front about his political stance. Like in THIS FB UPDATE where he wrote:
I love how whenever I write anything political, some Majestic Concern Troll always blunders up and warns me about how I'd be more effective if I was *nicer* (as in, be a snivling passive-aggresive pansy), yet they never seem to realize that the reason they have seen my political stuff at all is because thousands of people share my political writings because of my aggresive, over the top, honest style. Duh.

So, Majestic Concern Trolls who CARE SO HARD, if I want advice about how run a fry cooker or pour a latte or wtf ever it is you do for a living, I'll ask. Until then, kiss my ass.
Again, Correia doesn't seem to be hurting for readers.
Apparently, that advice you got as a novelist about keeping your politics to yourself is defunct.
Listen, whenever you voice a political opinion, it will have a plus / minus effect. I mean, I liked Anne Rice a lot more before I knew her political and theological opinions. And now… ? Let's just say it's less likely I will read one of her novels.
Anyway, the closer I've followed other novelists and industry reps online, the more it seems the ban on "talking politics" is lifted. In fact, nowadays, talking politics may win you readers.
Your thoughts?