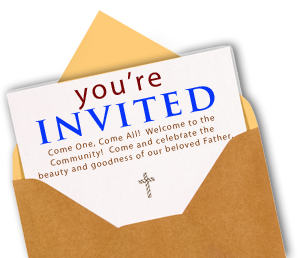 A new movement was started entitled National Back to Church Sunday (NBCS). In September 2013, more than 21,200 churches participated in the event. The massive outreach attempt has continued to grow each year. It's based on Thom Rainer's research that "82 percent of the unchurched are likely to attend church if invited by a trusted friend or relative," while "only 2 percent of church-going people invite someone to church in a given year."
I'm lukewarm about efforts like this. This might surprise you coming from a former pastor. During my tenure as a staff pastor, I would applaud ANY effort to get visitors through the doors of our church. But now, from the other side of the pulpit, I see it differently. Here's why.
Most Christians equate evangelistic outreach with inviting their friends to church. I think this is a mistake. No, I'm not suggesting that we should stop inviting people to church or that inviting them cannot be part of evangelistic outreach. My idea is this:
Sharing the gospel / making disciples, and inviting people to church, are two very different things.
For one thing, in many (if not most) cases, it's an issue of inviting people BACK to church, as the NBCS campaign suggests. In other words, these are people with previous experience in a church. Perhaps they are backslidden. Maybe they never professed faith. Whatever the case, this potentially ignores two important groups of people with two potentially different spiritual conditions:
Those who have no or little understanding of church, Christian culture, or the Gospel
Those who aren't in church because of objections to the church or faith issues, or emotional hurt from organized religion
My suggestion is that people in both of these groups require more than just an invitation to a church. Which brings me to my main concern about campaigns like this.
Inviting someone to church has become our default evangelistic approach. Rather than take time to cultivate a long-term personal witness, grow in articulating what we believe, learn to answer objections to the faith, and impart real-time grassroots discipleship, we simply hand off the faith baton to a pastor or someone more knowledgeable. In other words, inviting people to church can be a way to let myself off the hook.
Yes. In many cases, inviting someone to church can be used in conjunction with personal outreach and evangelism. It becomes a springboard for continued witness. But for many church-goers, I fear that inviting friends to church simplifies pacifies a sense of guilt and reinforces our own spiritual limitations. face it: the reason many Christians invite seekers to church is because they can't sustain a good, persuasive argument for following Christ.
In the case of the non-Christian who is agnostic or antithetical toward the Christian faith, the better approach is not to invite them to church, but to befriend them, listen to their questions or objections, and over time, seek to answer them. This could take years.
In the case of the person who has previous experience in church but was wounded or disillusioned, the best approach is not to hope your church "isn't like that," but to find out what those objections and/or emotional roadblocks are and to listen, grapple with the pain, and gently offer answers or corrections to the dissent.
One more thing: Inviting people to church can potentially equate being a Christian with going to church. Don't misunderstand me here. The Bible's clear that following Christ entails fellowship with His people. Christians should attend a local church. But I don't go to church to become a Christian, but because I am one. Inviting people to church — especially when church is mistakenly viewed as the place where people go to be / become more Christian — can subtly convey dangerous assumptions.
Bottom line: Evangelism should go on in the world, not the church. Most unchurched people do not need to be in a church first and foremost; they need to come in contact with real Christians in the marketplace; they need to experience a genuine sense of their own sin and moral failures, understand the reasons (historically and philosophically) how the Christian message addresses those issues, and they need to make a move toward Christ.
Going to a church may be a part of that. And it may not.