I might be a heretic. At least that's what some inferred after I mentioned I was leaning toward Inclusivism. Sure, some of the charges came in the form of finger-wagging. But for the most part, it was friends cautioning me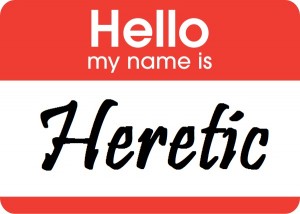 to be careful, to be faithful to Scripture, and to not be deceived by the spirit of the age.
You know what? I totally appreciate that.
It's kind of like the dinner conversation I had with two Christian author / editors. One was finishing up a project with an outspoken religious progressive and championing ideas of questionable veracity. The passion escalated quickly as one of the individuals stated "I refuse to follow a god who commits genocide" (referring to the slaughter of the Amalekites). From there, they shambled into New-Age pantheistic blather about God possibly being a stone or a footstool. I eventually lost it and stormed away from the conversation. Once I calmed down, I tracked down these individuals and apologized, admitting that I was genuinely concerned for their souls and where these beliefs would take them. They agreed that this was serious stuff and we left on good terms.
Because that's what friends do — they don't let friends become heretics.
Of course, such theological challenges or inferences don't always sit right.  Like the former pastor friend of mine who quoted something from former pastor Jim Palmer (what's up with these "former pastors"?). It was an excerpt from Palmer's project named the Religion-Free Bible. Palmer's one of the myriad of "victims" of organized religion who are, apparently, treating their wounds with feel-good mumbo jumbo. Palmer undertakes to re-translate sections of the Bible through a "religion-free" lens. What comes out sounds remarkably like Deepak Chopra. Like this quote:
"Love gives. Love is what brought me into this world. I am a gift, offered in love. Love desires your freedom. Love desires your wholeness. Love wants you to know yourself as complete. Love wants you to be at peace. My life was an invitation to this freedom, wholeness, peace and love. But my invitation is a choice. You have also been fed a lie about yourself that will ultimately destroy you. The lie says you are bad and worthless, irreparably flawed, defective and unacceptable, and undeserving of love and acceptance, even from God. I'm here to say that's not true, and I'm asking you to believe me. Even when everything in your head or everything n your life seems to be evidence of the lie, I'm asking that you believe me instead. I'm going to be gone soon, and I need you to get this because I need your life to be that invitation as mine was. You are as much a gift to the world as I am, and I want you to accept and own that for yourself. Love never stopped giving. Love keeps birthing new expressions of the truth to awaken those lost in the lie. First, you have to wake up yourself and then your life naturally becomes the smelling salts this world needs."
– Jesus, John 3:16-17, RFB
Love desires your wholeness. Huh?
Love keeps birthing new expressions of the truth to awaken those lost in the lie. Say what?
First, you have to wake up yourself and then your life naturally becomes the smelling salts this world needs. Excuse me, while I kiss the sky.
Frankly, this sounds like something that was run through the New-Age Bullshit Generator.
What happened next was even more interesting. When a concerned party exhorted this guy to be cautious about embracing false doctrine and potential heresy, he got all defensive.
Stop judging me.
You're not the theology police.
There's more than one way to interpret the Bible.
God is Love, not Doctrine.
This is between me and God.
For folks who want to get back to the "real Message," it's funny how resistant they can be to reproof.
I love how the apostle Jude put it:
22Be merciful to those who doubt; 23save others by snatching them from the fire; to others show mercy, mixed with fear—hating even the clothing stained by corrupted flesh.
We have a responsibility "to those who doubt," to those who are dangerously close to "the fire." We are to "save" them and "show mercy, mixed with fear" as we do so. This includes, I think, those who are drifting into false doctrine.
Their duty is to listen.
"True friends," said Oscar Wilde, "stab you in the front."
Perhaps the truest test of friendship is whether or not someone will "show mercy, mixed with fear" and question you about potential heresy. And perhaps the truest test of faith is whether or not we will shut up and listen.