"The discovery of life beyond Earth would be a triumph for science but might wreak havoc on certain religions."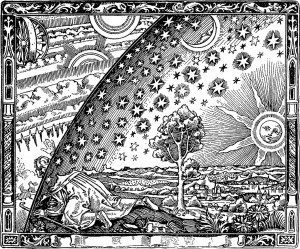 That's the estimate of Scientific American's recent article, Did Jesus Save the Klingons? The piece is based on the new book Religions and Extraterrestrial Life: How Will We Deal with It? (Springer Praxis Books, 2014), by David Weintraub, Professor of Astronomy at Vanderbilt University. When asked "Which religion will have the toughest time reconciling aliens with its beliefs?" Weintraub responds:
The ones that have decided that we humans are the sole focus of God's attention. The religions that see the world through that viewpoint tend to be some of the Christian evangelicals.
At this stage, asking how Christians would respond to the discovery of intelligent extraterrestrial life is like asking how scientists would respond to the discovery of intelligent evangelicals. From my perspective, discussions like these have one primary objective: to debunk or undermine Christianity. Why else would Christians always come out looking like Neanderthals?
For instance, in his article How Would Christianity Deal With Extraterrestrial Life? Mark Strauss suggests that
…Christianity, among other faiths, is the least resilient to the concept of extraterrestrial intelligence.
To illustrate this, Strauss quotes Paul Davies, a theoretical physicist and cosmologist from Arizona State University. Davies believes that the potential challenge the discovery of extraterrestrial intelligence to Christianity "is being downplayed" by religious leaders:
The real threat would come from the discovery of extraterrestrial intelligence, because if there are beings elsewhere in the universe, then Christians, they're in this horrible bind.
But until there's an actual discovery of intelligent extraterrestrial life, as opposed to the discovery of celestial algae or space slugs, the "horrible bind" created by evangelicals is completely hypothetical. It's sort of like asking how scientists would deal with the discovery of Michael the Archangel. In fact, the longer we go expanding our understanding of the size of the universe and its habitable planets and NOT discovering a life form above that of an amoeba or a ground squirrel, the more a biblical worldview is buttressed.
Nevertheless, the question of evangelicals and extraterrestrials always seems to cycle around.
For example, in the summer of '08, the Vatican issued a statement saying that belief in aliens doesn't negate faith in God. Father Jose Gabriel Funes, the Jesuit director of the Vatican Observatory was quoted as saying the vastness of the universe means it is possible that there could be other forms of life outside Earth, even intelligent ones.
"How can we rule out that life may have developed elsewhere?" Funes said. "Just as we consider earthly creatures as 'a brother,' and 'sister,' why should we not talk about an 'extraterrestrial brother'? It would still be part of creation."

In the interview by the Vatican newspaper L'Osservatore Romano, Funes said such a notion "doesn't contradict our faith" because extraterrestrials would also be God's creatures. Ruling out their existence would be like "putting limits" on God's creative freedom, he said.
Funes' view was backed up by fellow Vatican Observatory astronomer and Jesuit Brother Guy Consolmagno in his essay Intelligent Life in the Universe?: Catholic Belief and the Search for Extraterrestrial Intelligent Life, in which he writes
"The limitless universe might even include other planets with other beings created by that same loving God… The idea of there being other races and other intelligences is not contrary to traditional Christian thought. There is nothing in Holy Scripture that could confirm or contradict the possibility of intelligent life elsewhere in the universe."
Compound this with Pope Francis' recent (and rather bizarre) statement that he would welcome martians being baptized and you get the sense that Galileo's heliocentric heresy is a thing of the way distant past.
But as much as the Catholic church wants to open its arms to an 'extraterrestrial brother,' there's legitimate reasons for Bible students to hedge.
On the one side of the spectrum are Christians who claim the Bible leaves no room for extraterrestrial life. Aliens, they assert, are New Age, atheistic constructs, designed to supplant God and undermine our theology. On the other hand are those who suggest the universe is a vast place, God's wildly creative, and if E.T.'s real, he's just one of God's many creatures. So what gives? Is belief in God incompatible with belief in little green men?
This debate is important for several reasons. One is our continued infatuation with the idea of life in outer space. Whether it's SETI projects or the proliferation of pop cultural noodlings about alien life (see Prometheus, Contact, Super 8, Close Encounters of the Third Kind, Avatar, 2001 A Space Odyssey, etc.), the human race cannot seem to help but look to the skies.
But also at stake in this debate is the authority of Scripture. Imagine if Klaatu landed on the White House lawn, but along with his message of global peace, he said the Bible was a hoax, that God was a myth, and that Christians were a speed bump in the roadway of planetary evolution. As I said above, some advocates of extraterrestrial life cling to their beliefs in the hopes that a similar scenario will unfold; that a biblical worldview will, some day, be knocked back to the stone age by a more advanced civilization. Of course, allowing Scripture to inform our understanding could make evangelicals "the least resilient to the concept of extraterrestrial intelligence." As a result, believers DO have much at stake in this discussion.
So is belief in God compatible with belief in extraterrestrial life? It's a tough call to make because the Bible is relatively silent on the subject. As a result, both sides end up arguing from inference. What follows is a compilation of inferences that influence this discussion.
Scripture is clear that the universe is a vast, mysterious place, full of bizarre beings. Seraphim, cherubs, archangels, territorial spirits, principalities and powers, inhabit the dimensions around us. In fact, when the apostle John is caught up to heaven in the Book of the Revelations, he describes some of the most exotic beings in ancient literature — winged, glowing, snarling beasties that would make even George Lucas envious. So in this sense, the believer must concede a cosmos filled with outlandish, albeit inter-dimensional, creatures.
However, Scripture is also clear that humans are the pinnacle of God's creation. Not only are we created in the image of God (Gen. 1:26), but we are given authority over creation (Gen. 1:28). In fact, after His resurrection from the dead, Jesus claimed "All authority in heaven and on earth has been given to me" (Matt. 28:18), and on the basis of that "universal authority," commissioned His disciples. So in this way, human beings are presented as a superior life form. God's imprint separates us far above animals, and Christ's authority empowers us in the cosmos.
For the Christian, this simple but most basic belief in the Nature of Man, has serious repercussions regarding the possible Nature of Extraterrestrials.
Since man is at the apex of creation, invested with supreme authority, Christians must then assume that extraterrestrials — if they exist — are either
Angels  (fallen or otherwise)
Animals  (living organisms NOT created in God's image), or
Humans  (in the sense they share the imago dei)
"Any entity,"  said Consolmagno, the Vatican's astronomer, "no matter how many tentacles it has – has a soul." However, many tentacled entities exist on our own planet. And unless Consolmagno believes that squids and jellyfish have souls, we are forced to conclude that if extraterrestrial squids and jellyfish were discovered, they too might not. In that case,
If extraterrestrials are animals then they have no more moral impact upon us than a platypus or a pufferfish. Other than speculation regarding their place in the evolutionary food chain, humans are still above them.
If extraterrestrials are angels, then, Scripturally speaking, we must discern their Master and/or Message (i.e., are they fallen or unfallen?).
If space aliens are created in the image of God then we ARE indeed "brothers."
What throws a monkey wrench into this last scenario (actually several monkey wrenches), is Adam's blunder (the Fall) and the atoning work of Jesus Christ that occurred some 2,000 years ago on the third rock from the sun.
Continued…