Last week, the popular Christian review site, The Christian Manifesto (TCM), published a book review that generated significant discussion and online chatter. Their fiction editor, Amy Drown, reviewed veteran Christian fiction novelist and Christy award winner Lisa Samson's latest novel, A Thing of Beauty, concluding that it was worthy of only a half star (out of five). The half star, according to TCM's own ratings, makes the book a "Waste of Time." "Swearing and vulgar language" are cited as the primary reason for this downgrade. Amy writes in her review,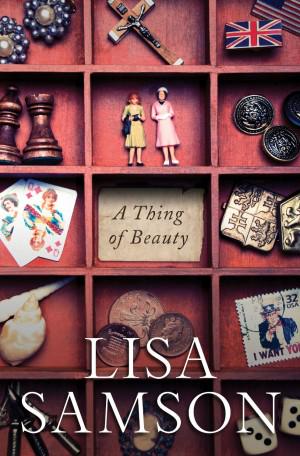 …as I opened the book and began reading, I instantly liked the author's spunky, sarcastic writing voice. My hopes were high indeed.
But two pages in, the language began. Talk about jarring. Did a Christian fiction heroine really just say that she would kick someone's a–??? I brushed it aside and kept reading, trying to get caught up in the story of this grouchy ex-movie star and her OCD hunt for a roommate. But then it happened again—this time someone saying they "didn't give a d—." It may have worked for Rhett Butler, but in a contemporary Christian novel?
And sadly, the language continued. I tried to make note in my Goodreads progress updates every time explicit language would jar me out of the story, but in the end, I literally couldn't keep up with it all. Multiple uses of a–, d—, b—–d, and h—, as well as repeatedly taking the Lord's name in vain. It reached a point where I seriously questioned whether this book was, in fact, published by Thomas Nelson. Maybe some Harper Collins intern responsible for posting the book on NetGalley and Amazon got the publisher information wrong, and it really is published by a different company in that umbrella organization? (bold mine)
Indeed, "expectations" became the primary theme of Amy's critique. She concludes,
As a general rule, I hate to post public reviews that are negative. If I can't honestly endorse a novel and recommend it to my friends, I prefer to say so quietly, directly, to either the publisher or the author. It's not that I'm a prude or goody-two-shoes. Far from it! I actually enjoy a lot of secular fiction myself, and if this book had been released by a general market publisher to a general market audience, I would be giving it a 3-star review*. The writing was full of sass and attitude perfectly in keeping with its genre and subject matter, and the characters were unusual, if not altogether likable.
But this book wasn't released in the general market. It is the product of a Christian publisher selling Christian fiction to Christian fans. And as such, knowing how many other Christian fiction fans trust this publisher's name and reputation and may be tempted to pick up this intriguing-sounding story just as I was, I felt compelled to post a review to warn them as I wish someone had warned me. (bold mine)
Audience expectations are a legitimate thing. Contemporary Christian fiction audiences expect a certain product. This is true of any market. Amy is not wrong for acknowledging this and cautioning her audience. Nevertheless, expectations are where Amy, I, and many of her readers part ways.
I've come to believe that some of the expectations that drive and shape the Christian fiction industry are unhealthy, unbiblical, and very un-Christian. In fact, I see the exchange that occurred at TCM and the subsequent response of many authors, readers, and bloggers, as indicative of this growing divide in the Christian fiction reading community and a recognition that the standard we've come to judge Christian fiction by is skewed.
After following the discussions on the TCM website, my Facebook page, and several other places, two major questions surfaced about the review:
Did the use of profanity deserve such a severe downgrade of the novel?
Did characters actually say the phrase "God damn"?
In some readers' minds, the use of profanity in a Christian novel does indeed significantly downgrade a novel.
"…finding all of that language in a 'Christian' novel would definitely be a disappointment for me."
Then there's commenter Florence who wrote,
"Thank you for this balanced and honest review! I've long believed in the mission of TCM, that you don't insulate yourselves so that we readers of Christian fiction will be safe from reading books will all that filthy language. You've reaffirmed my belief that my own expectations are what determine whether a work has beauty or merit, and I'm so grateful you warned me to stay away from this phony work of supposed Christian fiction. May God bless you for your stand and for your important public service!" (bold mine)
"Some expectations should be a given for the Christian fiction market, and a novel free of language should be one we don't have to question."
The concern about including profanity in a book marketed to Christians is legitimate. It's a debate worth having. But does the inclusion of profanity in a novel marketed to Christians immediately make it a "phony work of supposed Christian fiction"? This type of rhetoric does indeed reveal how central, how essential, the absence of profanity is to contemporary Christian fiction. It was a similar outrage that caused Lifeway to ban "The Blind Side" from their shelves. Even though the movie had a positive depiction of Christians and a redemptive conclusion, some language and a racial slur forced it to be deemed un-Christian. From my perspective, this type of reaction is kneejerk, insufficiently grounded in biblical precedent, and reveals an appalling lack of discernment, nuance, cultural savvy, and wisdom from evangelical consumers.
But that's my opinion and, as I said, the profanity discussion in Christian fiction is indeed worth having.
The second question turned into the stickiest, and ultimately the reason why I chose to publish this post.
Amy cited the novel as "repeatedly taking the Lord's name in vain." So I asked for clarity — "Did characters actually say G-D often?" to which she replied, "Yes, they did. Repeatedly." However, the author, Lisa Samson, specifically responded to this charge on my FB page saying, "There are unequivocally, absolutely no G-Ds in this book." So I asked the reviewer again, this time: "Does the phrase "God d–n" appear in this book?" Here's that exchange, my third comment on the TCM blog, and Amy's response: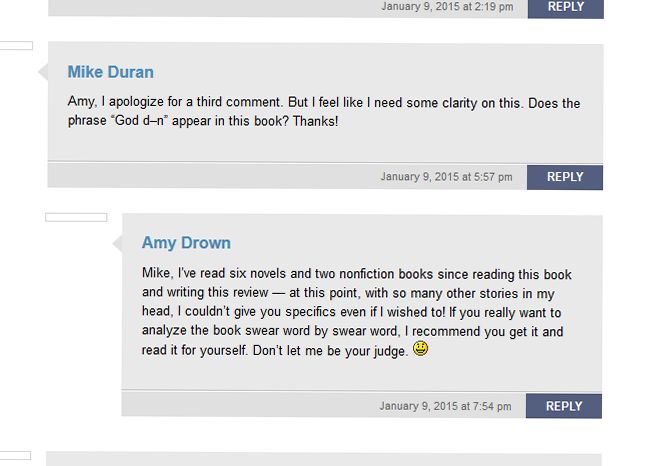 Needless to say, Amy's response was very disappointing. After pressing the issue, her answer was, basically, that she couldn't remember and that I should read the novel myself. So after going into detail about the amount of profanity in the book, referencing specific curse words, and emphasizing that by noting that the characters "repeatedly" used the Lord's name in vain, the reviewer basically says she doesn't exactly remember.
This was important, in my mind, because Amy's main charge is the book's language, capped off by the "repeated" taking of the Lord's name in vain. As a Christian, the taking of the Lord's name in vain would indeed be problematic, even shocking, for a Christian publisher to allow… especially regarding a book aimed at Christian audiences. Which makes the seeming obfuscation on Amy's part concerning. For a reviewer representing a mainstream Christian magazine to claim this, while the author flatly denies it, is troublesome. If Ms. Samson's novel "repeatedly takes the Lord's name in vain," I would share Amy Drown's concern. But her inability to cite specifics and back up her central claims leads me to wonder if she was intentionally inflating charges and misrepresenting the book (the author and the publisher) to justify her denunciation of the novel.
After the three exchanges with the reviewer on the website, I finally contacted The Christian Manifesto with my concerns. That was Saturday, the 10th. I emailed their site and Messaged them on Facebook. I have not (as of today, the 16th) received any acknowledgement of my letter, my concerns, or return correspondence.
Very disappointing.
Since that dust-up, it has been encouraging to see so many other readers and writers step up to counter the TCM review. Like author Susie Finkbeiner who writes in her post Reading Lisa Samson:
Here's the thing about this book: it's very different from what one might expect from the "Christian" publishing world.
The characters in A Thing of Beauty are very human. A few of them are broken and in possession of quite a bit of baggage (literally and figuratively). There is no salvation message. No explicit mention of Christ or Christianity. People, there are CUSS WORDS in this book.
But you know what was there? Redemption. Community. People living selflessly to prop up somebody else. Love (all 4 kinds…if you're a C.S. Lewis nut like me, you'll know what they are). There's a story of healing and forgiveness and reconciliation.
This book really is beautiful.
However, if you read "Christian" fiction as a means of isolating from the world…this isn't your book. If you're offended by hard words…move along, little doggy. If you want something fluffy (which is totally fine!)…pick another novel.
In her last paragraph, Susie hits the nail on its head and brings us back to the issue of expectations.
If you read Christian fiction as a means of isolating from the world… this isn't your book.
If you're offended by hard words…move along.
If you want something fluffy (which is totally fine!)…pick another novel.
But what you shouldn't do is distribute ad hoc half-star reviews and inflate charges of profanity in order to make your case. Especially when your Mission statement promises blunt objectivity and cultural savvy tempered by a biblical worldview.
Of course, reading is a subjective experience. People will have wildly different opinions about the same book. Also, bad reviews are par for the course. My guess is that this isn't the first half-star review Lisa Samson has received. And yes, maybe Thomas Nelson erred in not issuing some disclaimer. That's a possibility. But even if they did, what won't go away is the opinion of many Christian readers that the inclusion of profanity in a novel marketed to Christians immediately makes it a "phony work of supposed Christian fiction" and deems it a "Waste of Time." This, my friends, is a perspective we would do well to continue to challenge.
*In Drown's original post, she noted that if the book were published in the general market she would give it a "4-star review," which was later edited (without mention) to "3-star review" after online response began.