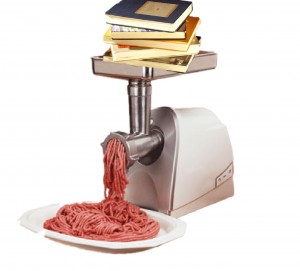 I recently purchased one of those Guide to Indie Publishing type books. It was cheap and a quick read. However, the author's central point left me a bit bummed. After outlining in detail her fairly prolific sales record, she concludes that the best way for an author to succeed at indie publishing is to crank out books. Lots of books. Of course, there is discussion about professional editing and cover design, as well as tricks and tips for exploiting Amazon's algorithms. But the bottom line is — Write Faster and Publish Often. This particular writer publishes two novels a year minimum, along with various novellas, anthologies, short stories, and self-help books.
Key to Indie Success: Write Faster and Publish Often
One of the debates that's arisen as a result of this changing landscape is whether e-publishing is shaping the expectations of readers. Does a faster supply line affect readers' expectations? Do we approach ebooks expecting:
Less density
Less editorial quality
A faster read
Apparently, some think readers DO expect less from ebooks — less craft, less substance, less in-depth characterizations, less detail — than traditional novels. Which is OK for them. What they want is a quick read. Something to hold them over until their next literary snack. Sure, maybe this doesn't mean readers have less or lower expectations. Perhaps they just expect something "different" from ebooks. I'm not sure. Either way, if indie authors are guided by the aforementioned rule — Write Faster and Publish Often — density and quality will eventually suffer.
I was a fan of Patrick Goldstein's The Big Picture, a Hollywood insider column, that appeared weekly in the L.A. Times. (Goldstein left the paper in 2012 after a change of management.) His piece (now 7 or 8 years old) on the success of Disney pictures has always stuck with me. In it, Goldstein handed out year-end report cards to the studios. The overall score consisted of three grades: first for box office and profitability, second for film quality, and third for overall success. At the top of the list — Disney with an A-. But what surprised me most about the '07 tallies was not that Disney was, again, near the top of the pack, but the reason given for their success.
Blessed with the most respected brand in the business, Disney is now less of a film division and more of a family entertainment company. Of the 11 movies it released in 2007, eight were Disney label movies, allowing the company to remain relentlessly focused on its brand. By releasing so few films, Disney was able to make more high-quality films by putting extra time into solving script, production and marketing issues than competitors like Sony and Warner Bros., who roll out more than 20 a year.

"We're probably in a different business than our brother and sister companies," says Disney studio chief Dick Cook. "We've learned that it's not how many you do but how good they are. If you only make 11 movies a year, you're not putting your movies through a meat grinder; you can be very specific about quality. That way, if we do stumble, and I'm sure we will, it will be because we were pushing the envelope instead of not keeping our eye on the ball." (bold mine)
Disney has obviously maintained its edge, landing 4 films in the 10 highest grossing movies of 2014. It's hard to argue about the meticulous detail that goes into Disney's films. But as with any quality product, perfection takes time. And this is exactly what differentiates Disney from its competitors.
"We're probably in a different business than our brother and sister companies," said Disney studio chief Dick Cook. "We've learned that it's not how many you do but how good they are." Unlike other studios, most of whom are cranking out twice as many films a year, Disney has valued quality over quantity.
And it is precisely this value that goes against industry norms.
I can't help but relate this to the arts in general and the industries that represent them. The film industry, like the book industry, like the music industry, is admittedly more about making money than producing quality craft. It's what Mr. Cook calls "the meat grinder." No sooner does a publisher contract an author than they are requesting a second book. (In fact, how many authors are left unsigned because they don't have a second book?) So what if it took ten years to write the script for an indie hit — you've got 16 months for the follow-up. Likewise, indie authors are taught to Write Faster and Publish often. Why niggle over details when you can fire up the assembly line and fast track your books to anxious readers?
Art is being jammed through a "meat grinder."
Perhaps more indie authors should reconsider Disney's approach. "[I]t's not how many you [publish] but how good they are." Of course, both would be ideal — more books, more often, of high quality. But as long as "success" is being defined in terms of money, why not choose the meat grinder?