Last weekend marked the end of a very busy year for me. No, the year's not over yet. But I'm feeling like I can finally breathe a little. And concentrate on my next big writing project. That project is Book Two of my Reagan Moon novels. For reasons I'll explain, I was unable to devote a lot of attention to Book Two the first part of this year. On the lighter side, my wife and I were blessed to do a little travelling this year, spending a week in Lake Tahoe and two weeks in Maui (where my mother lives). On the business side of things, I completed Christian Horror in Spring, which started as a si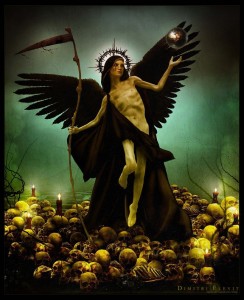 de project between Reagan Moon novels and became my first self-published non-fic title. Meanwhile, I signed on to teach two workshops at this years' Realm Makers speculative fiction conference. I've taught at some smaller conferences, but this was my first big opportunity to teach other spec writers. For that reason, I put my novel writing on hold and devoted a lot of time to preparing for those classes. (My presentation, A Theology of Horror, is available free at Google Slides, if you're interested.) The classes were a big success. As was the conference in general. More recently, our pastor went on a sabbatical and asked if I could teach a three-part series during his time off, which I did. Again, this forced me into limited novel writing time. On top of all this, I work 40 hours a week outside the home. Last Sunday was the final part of my sermon series and marked the last of all the "big" responsibilities for this year.
Which means I can kinda, sorta, breathe.
It's frustrating knowing that cranking out novels (often 2-3 a year!) has become the default "advice" for indie authors. I say it's "frustrating" because unless I'm willing to quit my day job and/or put all these other things on hold, there's no option other than this weird, stressful, herky-jerky schedule. The Ghost Box released November 2014. My hope was to have Book Two released within a year of that. Alas, that goal quickly became unreachable. Since I started writing professionally, I've really learned the importance of letting things fall off my plate. I just can't live under the constant stress of deadlines. The downside is, I won't publish novels as frequently as I'd like. The upside is, I can stay sane.
So Book Two is tentatively slated for Spring 2016 release. Wish it could be sooner. I'm excited to see what Kirk DouPonce of Dog-Eared Design can conjure for Moon's latest incarnation. And I think fans of the first book will have fun following the paranormal PI's latest adventures. But my mental health is still a priority. So I must give myself a little room. Okay?
Anyway, I've spent the last week getting reacquainted with the novel. I'm nearing 60K words and, at this rate, the book will probably be in the 90K range. The working title is "Saint Death." The "back-up" title is "The Tenth Plague." (The pictures I've posted here are ideas for the kind of vibe I'm drawing on; the link is to the picture's original source file.)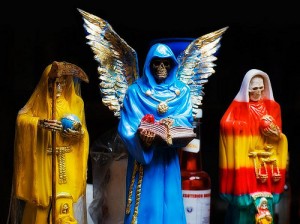 Let me explain the idea behind the story and then I'd love to hear your opinion about which of those titles you think is the most compelling and what you think of the basic idea. Let's start with a brief, back cover blurb for Book Two:
The name's Moon—Reagan Moon. I didn't plan on being an earth guardian, I sort of got zapped into it. One thousand volts of raw electricity to be exact. I simply call it the Accident, but it's more like Fate reached down and punched me in the gut. The Accident left an ancient relic fused into my sternum and gave me "gifts" that I'm supposed to use to help humanity. Apparently, earth has been going down the toilet for a while, partly due to the Summu Nura, ancient gods from a parallel dimension who think our planet is their sandbox. Somewhere along the way, Heaven made a pact with us normal folk to assist in battling these bad guys. I guess it helps that Saint George is in my bloodline, because the "bad guys" seem to keep getting badder. This time, they're not using dragons; they're using death angels and planning on wiping out Los Angeles with the Tenth Plague. I've never fought angels before, much less the kinds that have serpentine tongues to extract the souls out of the living. But that's what sucks about being an earth guardian–being outnumbered, out-gunned, and pitted against the most powerful monstrosities of the universe is par for the course.
A more straightforward summary for the book would look something like this:
The discovery of an ancient altar in L.A.'s downtown subway project has left people raving mad and awakened a unknown subterranean evil. The haunted subway has been abandoned and become the source of numerous urban legends. A cult of Neuros (smart drug users who have super-enhanced paranormal powers) named the Shroud learn this altar is the fabled Table of Summoning, a powerful artifact used by bygone necromancers and enchantresses to invoke all manner of inhuman evil. Behind Etherea (who looks kinda like this nice lady on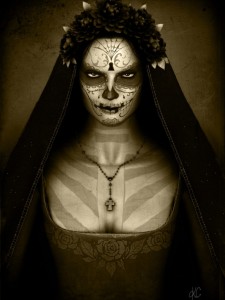 the right), the Shroud hopes to use the Mexican occult folk religion, Santa Muerte, and the Table of Summoning, to invoke Azrael, the legendary angel of death. With the assistance of  her Summu Nuran overlords, Etherea seeks to enact the Tenth Plague, the slaying of every firstborn in Los Angeles.
When the ragged team of earth guardians assemble to confront the Shroud and stop the ritual summoning, Reagan Moon is forced into a crash course of supernormal power training. He called them "the storm gifts" but Moon learns that his new-found abilities have a huge downside. Not only are the other members of the Imperia fractured in their loyalties and slowly dying, Reagan is believed to be the long-awaited Seventh Guardian, the greatest of all Imperia who would return the earth guardians to glory.  Until they discover that no manner of superpower can compete against the cold, merciless Angel of Death and her "children." 
Every gift has a cost. And in Reagan Moon's case, that cost is nothing short of life itself.
So that's it. It's a little rough. But I'm happy with the direction the story's been going. I feel like I'm in Moon's head and enjoy his voice. For some reason, his humor and self-deprecation make him more enjoyable to write. Along the way, I've been doing lots of research into Santa Muerte, which is a real religion that has migrated from Mexico and can be found in many backwater areas of Los Angeles, especially its prison system. I've also spent time researching angelology, a fascinating subject that I've visited before in my writing research. Of course, I'm developing an entire mythology along the way. I've started a glossary which I'm calling the Moon-i-Verse (corny, huh?), and will catalog the names, places, spells, creatures, and strange physics of this alternate L.A. (For example, materials from two alternate dimensions play a part in this story. From earth's higher dimension comes Ndocron, part of the dimensional membrane or skin that separates multi-verses and can be used to block dimensional apertures and portals. From earth's "lower dimension" comes another material (name pending / source pending) from which the Table of Summoning has been forged making it indestructible in our dimension.) Point being, the number of elements and characters with abilities demands I develop a legend.
Anyway, I'd love to get some feedback on 1.) The story idea and 2.) The two possible titles (which one jumps out at you — Saint Death or The Tenth Plague?). Thanks for reading!
a