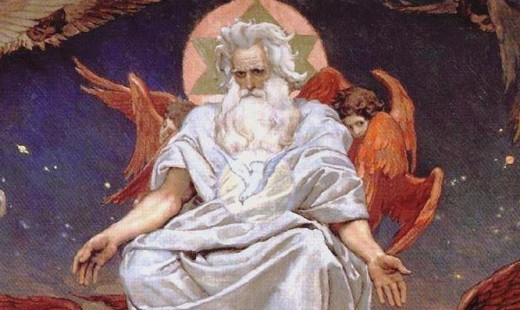 Of all writers, you'd think that Christian ones would have a handle on God. But you'd be wrong. Especially as it relates to writing fiction. Notably of the speculative variety.
It starts with the question — What is the defining trait of "Christian fiction"?
Ask that question to a dozen evangelicals and you'll probably get a different answer. This article at Library Journal defines the genre by its "focus on biblical values and traditionally low emphasis on profanity, sex, or violence." Another author defines Christian fiction as adhering to the following three criteria:
The author avoids the use of graphic sex/violence and foul language.
The story is based on Biblical teachings or relays the author's beliefs.
Whether the book is a mystery, science fiction, or based on historical facts the author is a Christian.
Whether a combination of the above or some variant, the definitions usually appear squishy. One trait that's often mentioned when discussing the defining characteristics of fiction written by Christians is an accurate, biblical portrayal of God. If anything, they say, when Christians depict God in their fiction, they should do so accurately. While such a desire sounds noble, it's in teasing out the details that we run into problems.
This is especially exacerbated if one is writing in the speculative genre.
In his article, Oh God, You Goddess?? Portraying God in Christian Speculative Fiction, author Tony Breeden explored the issue of how Christian writers should handle the creation of deities in their speculative stories. Breeden believes that while Christian authors are free to speculate, they must curtail speculation about the nature of God.
Speculative fiction is built on asking, What If? What if there were faeries? What if we colonized the moon? What if my math teacher is a werewolf from the Amish sector of Mars? A spec-fic author can speculate about a great many things including God, but a Christian spec-fic author must needs write the truth about God. In other words, God isn't a What If. He's the I AM. The God of the Bible has revealed Himself and changes not.

…Our first obligation as Christian spec-fic authors is not simply to ask "What If?" about anything and everything. Our first obligation is to glorify God through great storytelling – and we cannot do that if our storytelling contradicts the Bible's revelation!
While this perspective is probably shared, at least in spirit, by many religious authors, the devil's in the details. Breeden illustrates this as his article is in response to a debate about female deities and whether creating a female deity is outside biblical parameters Christian.
As I noted to those who said God is a Spirit and therefore genderless, one can only make that claim if they do not consider the context of the rest of Scripture, which overwhelmingly describes God as male. So, yes, God is a Spirit; he's a male Spirit. (bold in original)
So in Breeden's case, an accurate portrayal of God in fiction must be as a male. He summarizes,
One could be a Christian and write speculative fiction that asks What if God were female on some other world, but it would not be Christian spec-fic, for it does not speak the truth about God.
I use this as an example, not to debate the possible gender (or genderlessness) of God, but how the applied template can be problematic. This approach, in my opinion, is representative of the problem of demanding a "biblical" portrayal of God in our fiction. And as speculative fiction involves, um, speculation, the idea of any parameters can become rather sticky.
Let me cut to the chase. I don't think the question for the Christian author is, Should any biblical parameters inform our fiction? But rather, How exacting, extensive should the enforcement of those biblical parameters be? 
As I mentioned in my article No Zombies Allowed! (in Christian Fiction), believers can go to incredible length to impose theology on a story. It often leads to hairsplitting about whether we can justify a biblical basis for zombies, dragons, vampires, time travel, fae, etc., etc. Which is why it's fairly common to find a Christian author spanking his or her story into biblical submission. As I wrote,
Forcing fiction to neatly fit your theology is a losing proposition
Please don't interpret me as suggesting that the Christian author should be theologically indifferent or blatantly reckless. I recall once being involved in an online Skype chat session with some other authors and I suggested that the Christian author MUST operate within some biblical parameters, to which one of the panelists objected. To which I responded, "So the Christian writer should be free to write erotica?" Which, I think, made my point. Frankly, the Christian author who says there should be no parameters to speculation and content has a problem.
Anyway, so here's some questions that always arise (in my mind) when Christian authors talk about portraying God in fiction (especially speculative fiction), followed by some brief thoughts:
What constitutes a biblical portrayal of God in fiction?
How does that distinctive practically reveal itself in a fictional setting?
Is it even possible in the context of a single novel to accurately do so?
God's character and nature is such an immense subject. My initial reaction when an author proclaims that "Our first obligation is to glorify God through great storytelling – and we cannot do that if our storytelling contradicts the Bible's revelation!" is to ask what constitutes a realistic, biblical of portrayal of God? That may seem like hair-splitting. But unless you're actually showing God in the flesh or doing something (through a vision or divine revelation), you're pretty much consigned to showing Him through flawed characters, much like the Bible. (This would be compounded if those characters aren't actually human. I mean, can you portray God through an atheist, an extraterrestrial, or a cyborg? Or can accurate portrayals of God only occur through human believers?) Which leads me to ask, can you ever accurately portray God through ANY characters?
Furthermore, a realistic portrayal of God is not always edifying, encouraging, or enlightening. In the Book of Job, watching Job's family and property be systematically ravaged is part of a realistic portrayal of God. In the Book of Genesis, witnessing the horrors of the Flood is part of a realistic portrayal of God. The slaughter of firstborn Egyptian males reveals the character of God, as does the Red Sea, the Jewish wandering in the wilderness, and their exile into Babylon. King David revealed the nature of God… just not when he committed adultery and murder. Solomon showed forth God's wisdom… until his concubine stole his heart. Point is, a realistic portrayal of God could leave one angry, perplexed, and un-inspired. When we think about accurate portrayals of God, are we simply thinking about His "positive" attributes?
Also, does any one action or picture of God accurately reflect His character and nature? Even if God is "male" (to use the above argument), does this mean His character and nature cannot be accurately portrayed through a female character or deity? Especially in speculative scenarios, we are pulling from races, customs, and genders outside of the norm. In other words, if we apply the "biblical" template too strictly upon our fiction, no genderless characters can ever accurately portray God.
Is it possible for a single work of fiction to accurately depict God's nature or any one (much less all) of His attributes? He is merciful, holy, infinite, just, compassionate, omniscient, omnipresent, loving, gracious, etc., etc. So where do we start in our portrayal of God? And if we resign our story to just highlighting one attribute of God, we potentially present an imbalanced view (like those who always emphasize God's love and not His judgment). Furthermore, we have the luxury of the Bible and centuries of councils and theologians to help us think through this issue. But when we bring this body of info to bear upon our novels, we must remember that others often don't possess such detailed revelation… including our characters. Oceans of ink has been spilled dissecting the nature and attributes of God. So how in the world can any one book — biblical or fictional — ever hope to accomplish this?
All that to say, I think Christian speculative fiction has a God problem. In a way, it's a good problem. At the least, we believe in God-revealed Truth. And we believe it should inspire us and inform our storytelling. Problem is, Christians hate to suffer ambiguity. The idea that someone might read our story and come away believing something "unbiblical" is anathema. As a result, we incorporate a theological checklist to our stories that inevitably stifles fictional worldbuilding and quenches creative speculation.
I don't think the question is, Should any biblical parameters cordon our fiction? But rather, How exacting should the enforcement of those biblical parameters be?