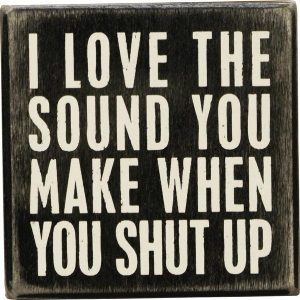 Literary agent Wendy Lawton, who's a member of the team I'm agented by, recently cautioned authors about publicly voicing their political opinions. In a Facebook post, she wrote:
Guess what? You can't win if you discuss politics on Facebook. No matter how passionately you feel about an upcoming election it is potentially damaging to open the subject in your news feed because (a) half your "friends" will be irritated with you, (b) they may post incendiary comments taking your feed to a full fledged flame war, (c) those who agree with you will stand up for you and challenge those who commented negatively, pouring fuel on the fire, and (d) you will change no one's mind.

If you are an author, as many of FB friends are, you can't afford to tick off half your potential readership. We can all name authors we cringe to read because they've become so political.
It's a question I've thought lots about. While I'm a very opinionated person, I have intentionally stepped back from posting — whether on this blog or in my social media feed — a lot of political commentary. Please don't mistake that as me not having an opinion. Also, don't mistake this for me necessarily fearing that I will alienate some readers. In my case, I'm just extremely fatigued about the state of our country and the fracturing of relationships this election has caused.
But, in a way, even THAT'S an opinion which could get me into trouble.
As much as I respect Wendy Lawton and those authors who choose a similar approach, I'm unsure about the basic premise that an author "can't afford to tick off half [their] potential readership." Sure, I understand not turning your writing platform into a political advert (especially if you're a novelist as opposed to a non-fic author). Problem is:
Lots of creatives are vocal about their political opinions
Being a public person inevitably demands a certain degree of transparency
Your art will inevitably reveal your values, morals, beliefs, and opinions
There's a good argument to be made for novelists keeping their mouth shut and letting their art speak for itself. On the other hand, there's lots of writers who are transparent AND popular. In fact, you could say that someone's art is an organic part of who the artist is. Although the reader can separate the art from the artist, the artist can't really separate her opinions from her artistic output.
The pop cultural consumer eventually learns to separate the art from the artist. Either that, or they choose build their library around ideology rather than art. Good art can be made by bad people… much less, people I disagree with. I disagree with many novelists about politics. But it hasn't stopped me from reading their novels. I mean, the "goodness" of a piece of fiction / film / music has nothing to do with whether or not its creator meets my ideological standards.
The problem is when the art becomes a vehicle for the ideology.
Some of my favorite creatives are people whom I often disagree with. The point which I stop buying their stuff is when it subsumes their art. When your story, song, or film becomes a megaphone for your politics, I check out. Other than that, go ahead and voice your disdain for a political candidate. As long as you keep creating good stuff. Truth is, I avoid some artists who never publicly share their political opinion, not because of the content of their art, but because of a perception (on my part) of the philosophy or worldview driving them. In this case, public opinions are moot because the art does the talking.
Point is: Your novel is going to express its own worldview and opinion which, in one sense, is going to self-select your readers.
All that to say, building a readership and marketing yourself is obviously a tenuous thing. Like many walks of public life, the broader the audience, the more we must temper what we say. To what degree we temper our opinions is another story. Either way, people come to fiction, film and music for what it does for them, not the political, ideological views of the artists. Of course, some of those views may or may not expand their audience. Still, a good story, well told, trumps ones political affiliation.