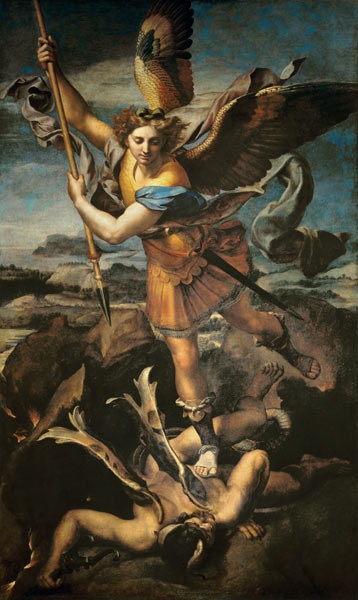 In the Book of Daniel chapter 10, the prophet Daniel encounters an angelic superpower who arrives in answer to his prayers. However, the angel says he was "detained" for 21 days and had to be assisted by another angel, Michael, "one of the chief princes" (vs. 13). The reason for needing assistance has to do with battling "the king of Persia" (vs. 13). Apparently, this was a very bad dude. Many scholars believe it's in reference to some type of powerful demonic entity, a "territorial" spirit of some sort that held tremendous spiritual sway. So great was this entity's power that it required tactical readjustments and forced delays.
Unless you believe this story is purely allegorical or apocalyptic, it poses some interesting possibilities for the physics of Angelology. Namely, it implies that angels are subject to time and space.
In physics, time is considered the fourth dimension. However, according to M-Theory, there are possibly 6 additional dimensions (10 total plus supergravity). It's difficult for us to conceptualize these additional dimensions because we are bound within our four. Nevertheless, Scripture affirms the presence of a multi-dimensional universe when it speaks of God operating outside of the constraints of time (the Creation event; "With the Lord one day is like a thousand years" II Pet. 3:8), knowing us before we were born (Jer. 1:5), and predestining us "before the foundation of the world" (Eph. 1:4). Angels are often viewed as having similar qualities and are sometimes portrayed as being able to traverse time and space in an instant and materialize in our plane without difficulty. This scene in the Book of Daniel challenges that understanding. Not only does it suggest that physical space is being traversed (the angel is attempting to get from Persia to Babylon), but that it takes actual time to do so. Unlike Dr. Who, angels aren't afforded a time machine that can zap them instantly from one historical event or locale to another. They must actually move and be subject to flight times.
In this case, the angel was 21 days late! This is interesting in itself because believers like to say that God's timing is perfect. Well, unless God intended Daniel's answer to be 21 days late, this incident seems to upend that notion. In fact, it could imply that one of the reasons for unanswered prayer is that the answer got lost in the mail (i.e., intercepted by bad guys). Think about that for a moment. You might be blaming God for ignoring your prayer when instead you should be appealing for help for the delivery boy. "God, send Michael!" Whatever the case, this seems to suggest that angels are subject to the fourth dimension. Of course, this doesn't mean they don't have access to others that we might not. The fact that they can or cannot be visible on our plane suggests properties and clearances we don't have. But it does imply other things; like maybe heaven is actually a place that exists in proximity to other places and takes a given amount of time to traverse. (Just thinking out loud here.) Which, if so, would be dependent upon angelic flight times. Travel to Babylon from heaven would involve a lot more than a simple snap of the fingers. Especially if the Prince of Persia stood in the way.
Either way, the Daniel account potentially stretches our understanding of the physics of angelology.