In his adaptation of the works of Edgar Allen Poe, Tales of Mystery and Imagination, prog-rock artist Alan Parsons employs Orson Wells to read some of Poe's works. It's a wonderful synthesis of lyric and melody. Against a dark orchestral background, the album opens with "A Dream Within a Dream," which includes a reading from an obscure piece by Poe entitled "Marginalia." In it, Poe describes "a class of fancies of exquisite delicacy which are not thoughts, and to which as yet I have found it absolutely impossible to adapt to language." Poe often contemplated the chasm between our perceptions and reality, and sought to bridge this chasm between our brute intuitions of "a class of fancies of exquisite delicacy" and language. Nevertheless, adapt[ting them] to language," he does. "And so I captured this fancy, where all that we see, or seem, is but a dream within a dream." What's interesting about this is what Poe saw as the "perfection of rhyme" and the importance that lyrical structure played in the evocation of these heightened states (see Marginalia 147).
Yes, Poe's musings are often eccentric. However, this idea that sound and rhythm — that music — can evoke words and capture thoughts or emotions that were once ethereal is a near universal truth. Something that most every writer will know.  Perhaps that's why writing to music is one of those odd, yet oft-discussed subjects among writers. Music can create an atmospheric scaffold to our stories, an ambiance or vibe that draws out words or emotions and propels the imagination forward.
So I thought it would fun to list some of my favorite music soundtracks to write by. Here's ten, but there's lots of others.
* * *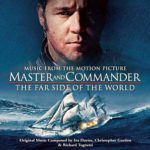 Master and Commander, Various artists — The score for Peter Weir's film is one I come back to over and over. Especially when I want my spirit lifted and a sense of the spray of salt water in my face. I don't write to much classical music, as you'll see, but this album is an exception. The original orchestral music is by Iva Davies, Christopher Gordon and Richard Tognetti. However, the album is more of a score by committee and ranges from warlike kettle drums to the soaring beauty of the violin & cello. Perhaps my favorite is the nine-minute piece, Boccherini: String Quintet in C, Op.30 No.6. You can listen to the whimsical tail of that song HERE.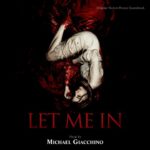 Let Me In, Michael Giacchino  — Giacchino is amazingly versatile, scoring films as different as Dr. Strange, Lost, Rogue One, and The Incredibles. This is my "go to" horror soundtrack, with some genuinely eerie moments. Yet interspersed with the screeching violins and a mounting orchestral dread are some beautiful moments. The film is, after all, a love story between a boy and a "young" female vampire. Giacchino captures both the lonely innocence of the strange couple and the foul nature of hunger which looms between them.  This score is a wonderful blend of horror and sweetness. At Your Disposal is a great example.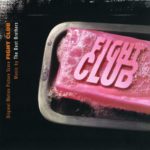 Fight Club, The Dust Brothers — If you've seen the Fight Club, you know it's an odd mix of dark humor, violence, sensuality, and gross-out catharsis. The soundtrack manages to capture this cauldron of emotion in a mix of quirky, techno-orchestral fusion. With titles like Medulla Oblongata, Psycho Boy Jack, and Commissioner Castration you're pretty much guaranteed for a weird ride. For me, the soundtrack conjures a more urban, street smart, even anarchist-like vibe. Check out this snippet from Medulla Oblongota.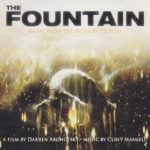 The Fountain, Clint Mansell and Kronos Quartet — This is, simply put, one of the most beautiful soundtracks I own. It hearkens unto Schindler's List with its mournful violin and melancholic ambiance. A perfect compliment to the film which is a surreal contemplation of life, death, and the universe. The composers move from spare instrumental pieces to pulsating drumbeat and swelling orchestral. However, the overall mood of the soundtrack is one of melancholy. The opening piece, The Last Man, will give you a great example of this haunting, beautiful soundtrack.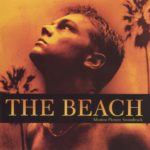 The Beach, Various Artists — This soundtrack is a bit out of my norm. Like the movie, the tone is that of a mixture of emotions, ranging from upbeat Caribbean sounds, ambient/dance, to some more swelling evocative pieces. It's comprised of a number of artists — Moby, New Order, Sugar Ray, and others which lends to the eclectic nature of the soundtrack. However, for me, the album mostly conjures an upbeat, feel-good mood. I genuinely get the sense of the nomadic world traveler sprawled on the tropical beach gazing up at the crystal night sky.  Moby's Porcelain is a good place to start.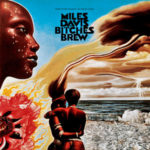 Bitches Brew, Miles Davis — No, this isn't a soundtrack. But it definitely fits the category of soundscape– a jazzy, experimental melange of horn, drum, electric keyboard, and guitar. It was the dawning of the "new" Miles Davis, moving from his classic Kind of Blue jazz to a two-disc Jackson Pollock, an musical abstract of incredible proportions. At times, the songs are discordant and disorienting. At other times,  it's rock fusion at its best. The album is hugely improvisational and wildly polarizing. Personally, I find it inspirational and bombastic. When I need to an uppercut to the imagination and a time out from real time, Bitches Brew fits the bill. You can stream the entire double album HERE.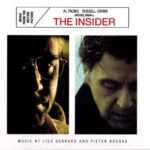 The Insider, Lisa Gerrard and Pieter Bourke — Director Michael Mann is known for his stylish films, and this soundtrack is no exception. At first glance, the film's plot and the music might seem incongruous. The film is about a whistle blower on the tobacco industry. However, listening to a piece like Sacrifice, which features the soaring vocals of an Arabic pray-er, one can quickly see that the soundtrack is aiming for more than just dramatic thrills. It's passionate and gorgeous music, and a surprisingly good soundtrack that received a well-deserved Golden Globe nomination.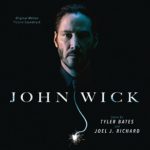 John Wick, Various Artists — This album reminded of another one of my favorite movie soundtracks,  the Matrix. Like that film, this score uses multiple artists and aims for a grungy, electronica-influenced sound. Largely consisting of shorter instrumental pieces, the soundtrack captures a gritty industrial sound (despite containing a nice jazzy lounge number). This is another good album for writing those hardcore urban scenes. Who You Talkin' To Man? is one of my favorite songs on the album. Here's the shortened version.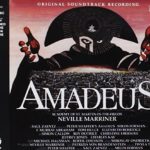 Amadeus, Academy of St. Martin in the Fields and Sir Neville Marriner — Another one of my rare straight-up classical choices. Despite some of the operatic interludes, this is a great collection of Mozart's work. And the movie is fantastic! There is wonderful breadth and passion to Mozart's music, whether it's a delightful gaiety or something darkly brooding. By far, my favorite piece is the Requiem in D Minor, which is sure to make my upcoming Best Horror Soundtrack.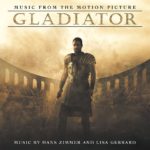 Gladiator , Hans Zimmer — This album is a collaboration between a couple of stellar soundtrack artists — Hans Zimmer and Lisa Gerard (The Insider). The soundtrack moves between swelling high action and serene, almost prayer-like refrains. Probably why it won the Golden Globe for the Best Original Score. When I need the highs and lows of cinematic inspiration, this is the soundtrack I turn to.  You can stream the entire album HERE.
* * *
There's lots of other soundtracks I write to. These would probably fall into an Honorable Mention category: Ghosts I-IV, Nine Inch Nails; The Lord of the Rings: Fellowship of the Ring; The Earth is Not a Cold Dead Place, Explosians in the Sky; Orange Mountain Music, Phillip Glass; The Matrix: Various Artists; Les Revenants, Mogwai ; Halo 3, Martin O'Donnell and Michael Salvatori; Edward Scissorhands, Danny Elfman; Kill Bill Vol 1, Various Artists; Oblivion, M83.
I'd love to hear some of your recommendations!