Later this week, I'll be teaching a class at a writers conference entitled "Writing for the General Market." This is a Christian writers conference, thus the emphasis on the general market as opposed to the "Christian" market. When I officially began pursuing a career as a writer back in 2003 /04, the Christian market was the default market Christian novelists were aiming at. At that time, Christian fiction was thriving. Combine that with oft-stated objections to "secular content" and a rather narrow interpretation of evangelistic methodology (I'll get to this in a second), and you had a fairly saturated market.
Over a decade later, things have changed significantly. Part of this is due to changes in the publishing landscape. Another part, at least among Christian authors, is a growing (perhaps "maturing" is a better word) understanding of what art and cultural engagement can look like. Either way, more and more Christian writers are now seeking to branch into the general market.
I recently discovered a good example of this developing perspective in professor Holly Ordway's new book, "Apologetics and the Christian Imagination." Early on in the book, Ordway establishes that one component of apologetics involves "creating meaning," bringing life to foundational concepts intrinsic to salvific belief which may be misunderstood by the hearers (concepts like sin, redemption, faith in God, etc., etc.). However doing this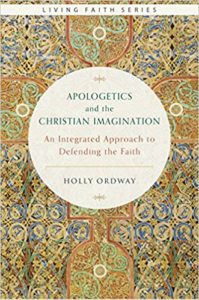 requires we approach apologetics as "a spectrum of engagement." Some of this involves appealing to Reason, others involves appealing to Imagination.
Reason and Imagination are twin faculties, both part of human nature–and both given to us by God our Creator!–that, together, allow for a further grasp of the truth.
In this sense, effective apologetics must not simply appeal to linear thought but to abstract thought as well. Ordway uses C.S. Lewis (and herself) to describe what she calls "a two-step conversion." The first step in Lewis' conversion was "a conversion to Theism, not to Christianity." He moved from strict atheism to a belief in God. It was an inability to grasp certain doctrinal issues, namely the Atonement, that prevented Lewis from taking the next step and embracing Christianity. This changed when Lewis' Imagination was engaged. Specifically his love for myth and how Christ was "the true Myth" or "Myth become flesh." Ordway summarizes,
When Lewis realized that he could connect his imaginative response to the story, to the factual reality of the Christian claim about the Crucifixion and Resurrection, the final barrier to belief fell. He could become a Christian as a whole person, with both his imagination and his reason fully engaged.
This is an important point for Christian novelists. Too often we see our work as not "Christian" enough unless it appeals to Reason and clearly articulates some element of the Gospel. Another way to view this could be in terms of Implicit and Explicit Christian content. Many believers have been conditioned to define a novel's Christian-ness in terms of explicit content — overt Scripture references, Christian characters, some form of Gospel proclamation, a redemptive movement, etc. However, what we often fail to recognize is this:
Implicit biblical ideas form the foundation of more explicit biblical beliefs.
To tease this out, here's one of the slides I'll be using in my class. It's a quote from Tom Pawlik, a popular Christian author, from an interview I conducted with him. We were discussing what exactly constitutes "Christian content" in a novel.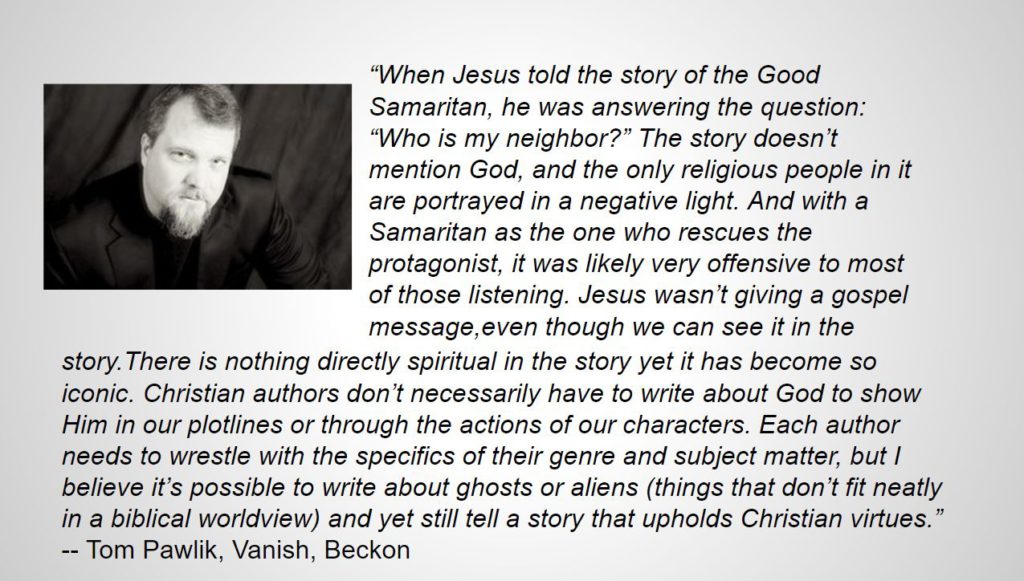 Pawlik rightly notes how the story of the Good Samaritan, though containing no explicit references to God or the Gospel, "upholds Christian virtues." So a listener or reader of the Good Samaritan, without having explicit knowledge of the Gospel, can still engage with its implicit biblical concepts. The idea of intrinsic human worth, transcending structures of class and race, and sacrificing ourselves for the good of others are intrinsic to a biblical worldview. Once extrapolated to their fullness, they speak to explicit Christian concepts concerning the nature of human beings, the societal and individual repercussions of sin, and the risks and rewards of redemption.
And this brings us back to Ordway's idea of a "two-step conversion." In the same way that Lewis moved incrementally from atheism to theism, people usually move from implicit to explicit Christian beliefs. Before one can embrace a specific doctrinal distinctive — like the Atonement, the Trinity, the Deity of Christ, etc. — one must at least be a Theist. But the path from atheism or agnosticism to Theism is often incremental. We simply cannot expect someone to embrace explicit biblical concepts without first embracing foundational implicit concepts. Part of the "spectrum of engagement," at least from a novelist's point of view, is to engage a story's abstract, implicit, and Imaginative components. Using fiction (and giving permission for Christian creatives) to engage the Imagination rather than the Reason is an important step to more powerfully engaging a mainstream audience and seeding the Gospel in culture. While a work of fiction may not explicitly articulate the Gospel, it can still contain implicit elements which engage a person's imagination and move them forward in their spiritual pilgrimage.
Point being: Writing for the general market and engaging mainstream audiences means being able to see below the "tip of the iceberg" and affirm the much larger body of principles and beliefs which support a biblical worldview.